Where History & Heritage Combine To Create A Unique Shopping Experience
Posted by The Aran Sweater Market on 12th Apr 2018
What can one expect from the home of the famous original ? Well, here in the Aran Sweater Market, we aim to provide a rewarding and genuine experience which you can add to those fond memories of your trip to Ireland when reminiscing in years to come.
Here are just some of the little treasures you can look forward to on a trip to any of our four locations; our flagship store on Inis Mór, the largest of the Aran Islands, our Grafton Street store in Dublin's busy city centre, our newly renovated market in the picturesque town of Killarney and coming soon, our newest edition in Galway's bustling Quay Street.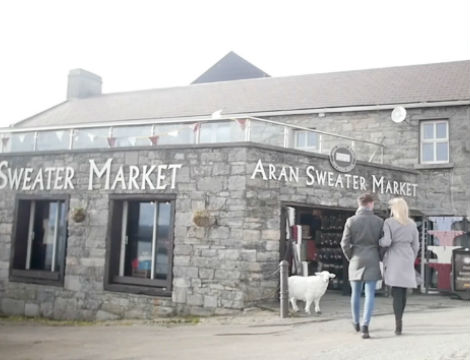 The Famous Original
Amidst the many sweaters we have in store, perhaps the most sought after are the more authentic styles modeled on the very first Aran Sweaters, hand-knit by the women of the Aran Islands in 1892.
Our stores pay homage to the history of our craft by providing a home for many of these original styles, from the old school Crew Neck to the classic Aran Cardigan.
All are crafted from a variety of wool to suit each individual wearer's comfort and taste, whether you prefer the rawness of a pure new wool or a softer merino style - and of course we offer the very best prices too!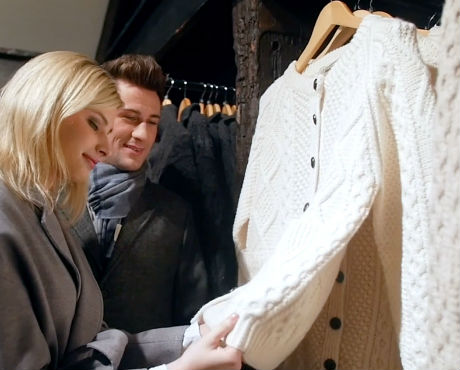 A Good Old Fashioned Irish Welcome
A good old fashioned cead míle faílte is one of the certainties when visiting the home of Aran.
Our staff pride themselves on creating a warm and friendly atmosphere in our stores and are ready to help you through what can often be a challenging task of finding your perfect Aran Sweater, amongst a whole host of styles and colours. Our helpful staff are extremely knowledge on the craft and design of the Aran Sweater and are dedicated to ensuring your experience is a memorable one.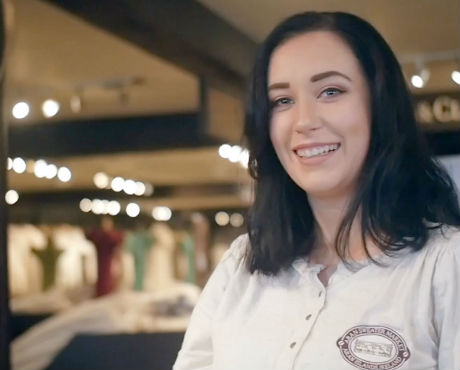 ClanAran Range
Our special ClanAran Range is always a real treat for visitors to the store and is especially adored by those with an Irish Surname in the family. The ClanAran range compiles over 150 Irish Surnames, each with their own unique ClanAran Pattern.
Choose from your very own Clan Scarf, Sweater or Throw each made from traditional banín wool and each with their own family crest card. The perfect family keepsake for decades to come.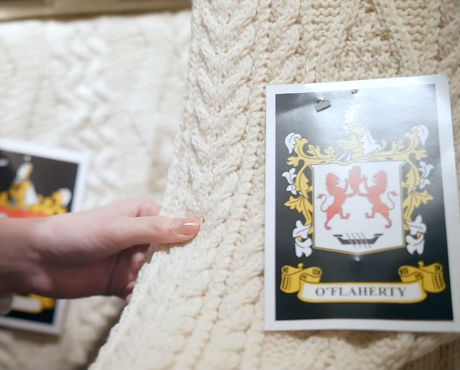 Largest Range of Colours, Styles & Sizes
It's no surprise that our stores stock the largest range of Aran Sweater styles, colours, shapes and sizes across the island of Éire so you are guaranteed to find a few favorites. As well as a women's and men's department, you will also find a kid's range and a homewear collection too.
We also offer a wide selection of other Irish woven goods from lambswool scarves, tweed caps and waistcoats and everyone's favorite Irish grandfather shirt, amongst other Irish classics.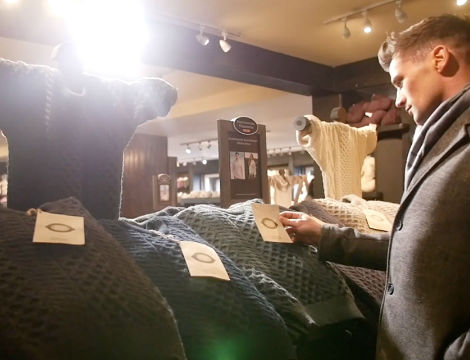 Free Shipping Worldwide
And just in case you end up with a few too many bargains in your basket, we offer a fantastic free shipping service to all our customers worldwide. If your minimum spend is 100 Euro or more then we will ship everything to your home hassle free and at no extra cost.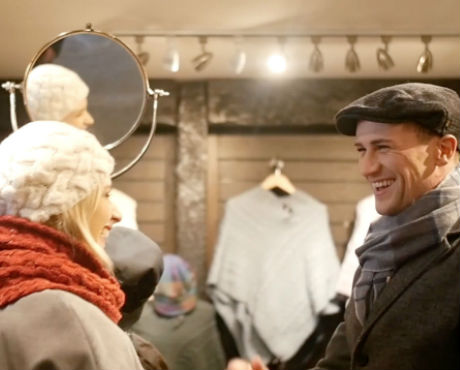 We hope we have given you an insight into what you can experience in-store at our markets and if you have visited already, then we would love to hear your thoughts and feedback on your trip.
Looking forward to welcoming everyone to our shores and stores this Summer.
Slaín go fóill,
The Team at The Aran Sweater Market