How Spring On Our Island Home Inspires New Shades For The Season
Posted by Aran Sweater Market on 21st Apr 2023
Spring, here on the Aran Islands in Ireland is a beautiful and vibrant time of the year. The Aran Islands are located off the west coast of Ireland, and they are known for their rugged beauty, stunning landscapes, and traditional Irish culture. March/April and the beginning of the spring season is a busy time of year on the island.
During the spring months, the islands come to life with new growth and renewed energy. The fields turn green with fresh grass, and wildflowers begin to bloom along the roadside. The weather can be changeable, but on a clear day, the views of the Atlantic Ocean and surrounding countryside are breath-takingly stunning so put springtime in Inishmore on the bucket list.
Spring is a time all for the new: we're going to showcase how our home here in Ireland, from the crashing blues from the Atlantic Sea, the vibrant flowers & captivating sunrises all have drawn inspiration for us to implement these fascinating new shades into our craft. Letting go of the dull, winter shades and springing new life into your wardrobe while we wait for summer's arrival on the horizon of those magical spring sunsets.
---
Rejuvenate your style with Tranquil Blues for him & her.
Inspiring us to create energising, refreshing tones that revived us for the season ahead.
As we breathe in the cooling misty sea air & watch the calming blue waves flowing effortlessly in and out on our Island home edges that goes with our breath and connects us to the beauty of nature's variety of blues from clear skies, gorgeous blooming flowers to the fresh water surrounding us & supplying feelings of tranquillity.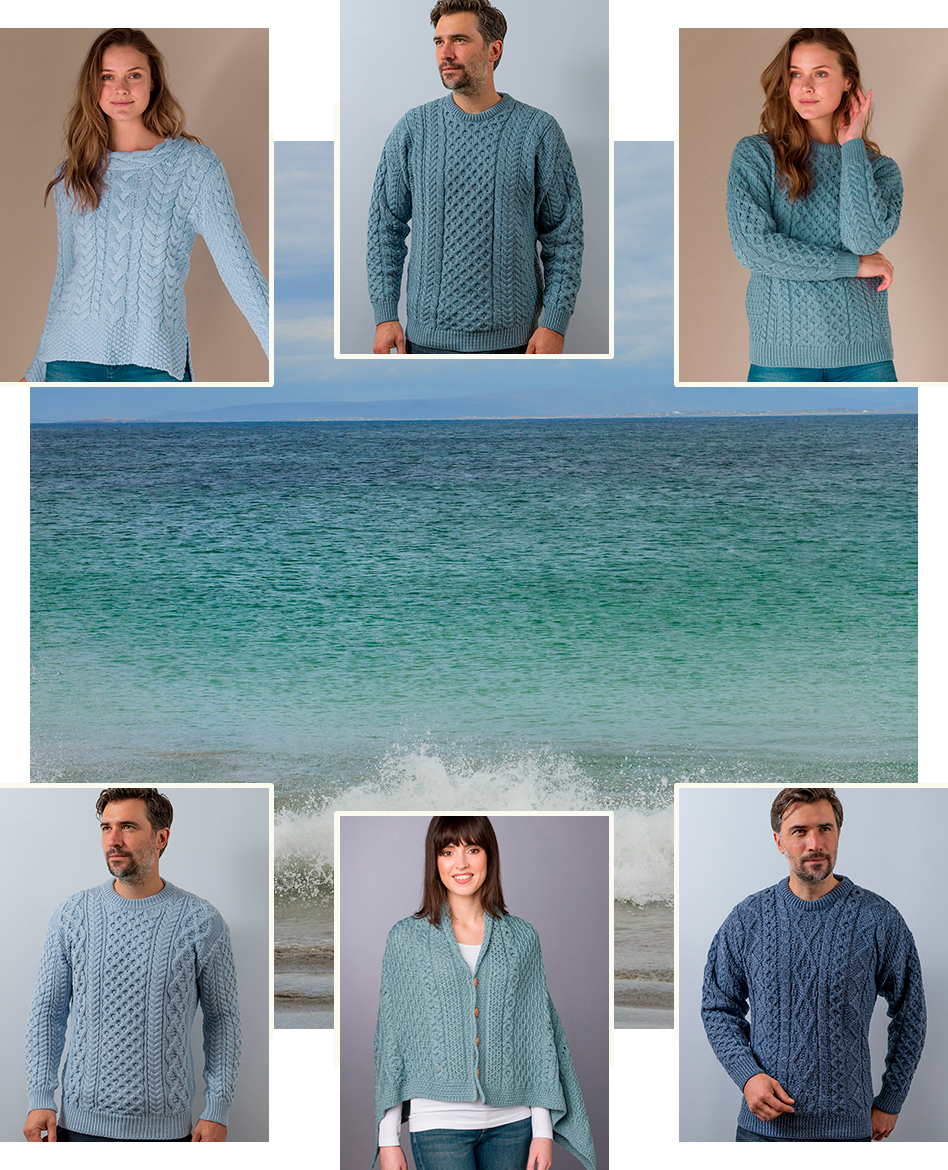 Shop blue shades for her Shop blue shades for him
---
Brighten your style this spring with our Sunflower Yellow
Inspired by the spring sunshine that lights up all these stunning shades for us to enjoy every day & of course the blooming sunflowers. As there is no certainty with weather in spring, but the sun will show up every day and set every night while displaying fascinating views that would make you stop in your tracks to admire – that we can count on.
Shop yellow shades for her Shop yellow shades for him
---
Refresh your wardrobe with a breath of playful Pink.
We are inspired by the beautiful & breath-taking skies around us but also by the eye-catching shades nature gives us from the ground up – to create these stunning shades of pink which we call Winter Rose & Jam. These majestic skies & sprouting flowers have inspired many of our brighter, delicate shades for you to enjoy and dress up with this Spring.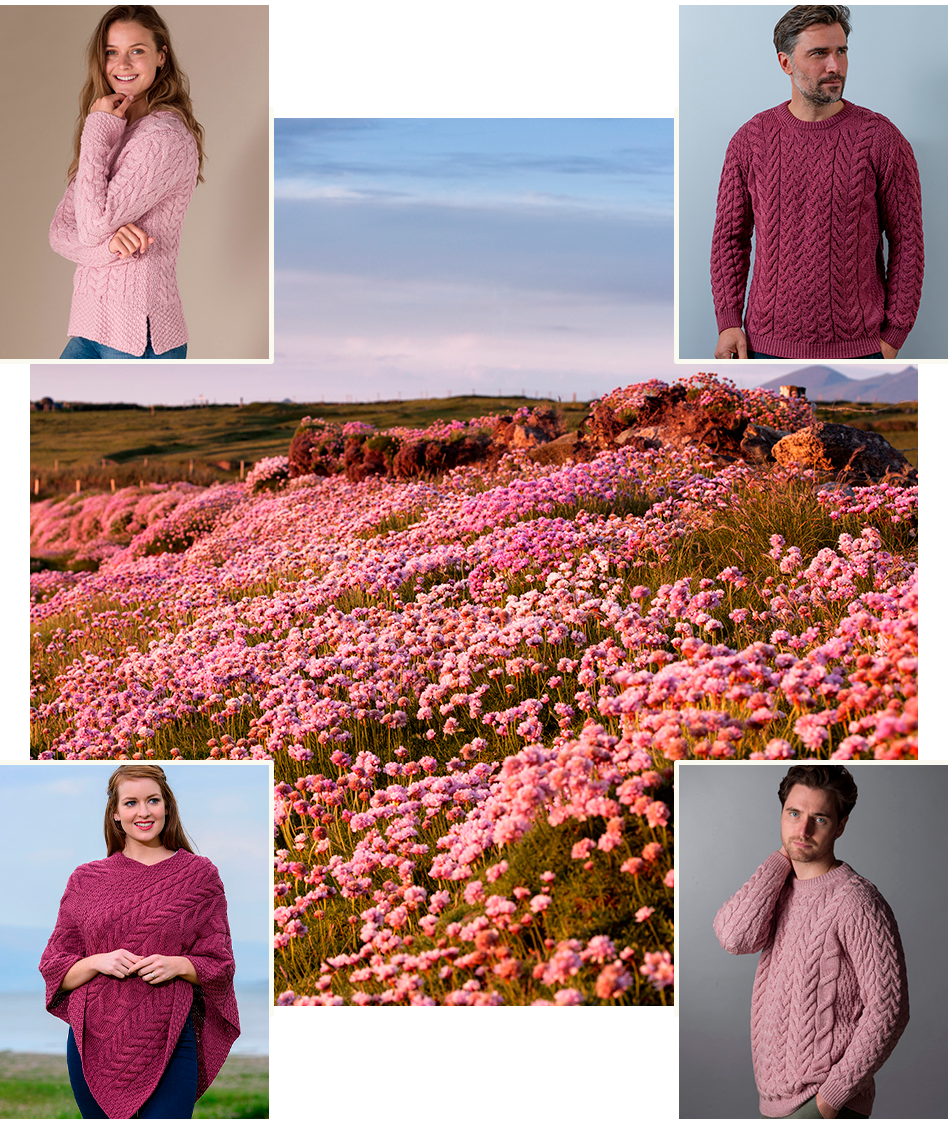 Dressed up with some denim jeans, white trousers or even a midi skirt – it's the perfect partner for comfort & style this season.
The pink fills our hearts of hope for longer, warm summer evenings that these skies promise us are on the way. You can shop the full range of both shades in our Shop by color section.
Shop pink shades for her Shop pink shades for him
---
Go Green for spring with sustainable fashion.
Go Green for spring with a sustainable fashion staple piece that will be sure to gather many compliments for its wearer – Green is one of our most popular shades all year round but particularly this season, as we it reminds us of the variety of the fading greenness from the Atlantic Sea at our ebbing shore.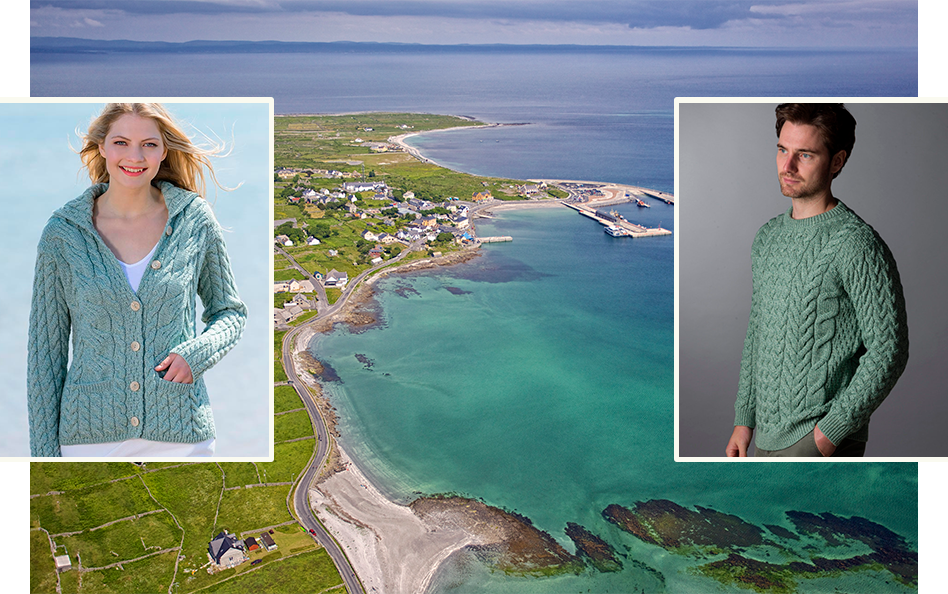 While our Meadow Green shades remind us of the vast greenery throughout the island in spring. Thanks to our mild climate and sufficient rainfall, round our island adding to its everlasting vibrant beauty that is our home. From the smell of fresh spring grass being cut, playful baby lambs springing around bright green fields, the green ivy on our island walls - it all adds to the liveliness that surrounds us here on the west coast of Ireland.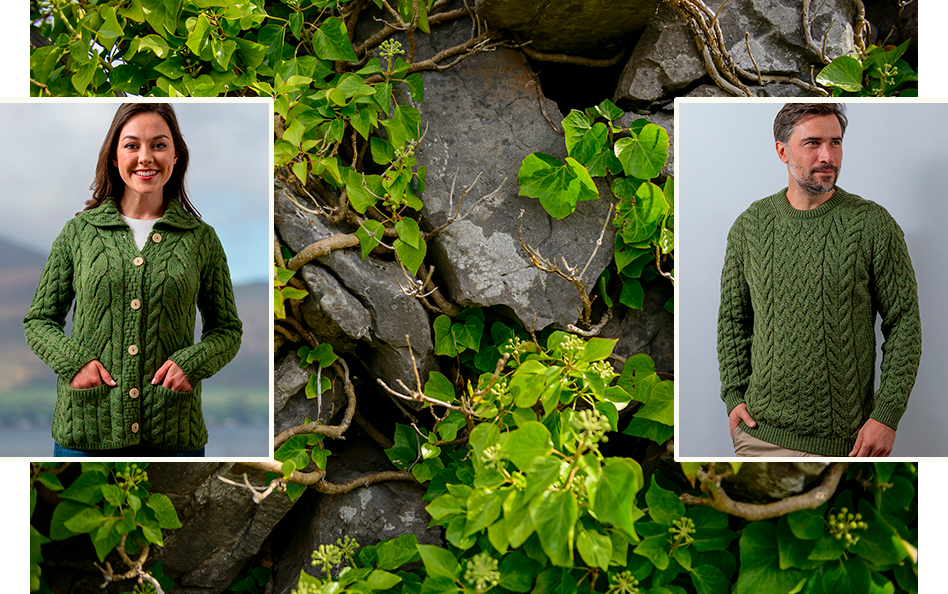 Shop green shades for her Shop green shades for him
---
Lilac & Purple shades represent purity this spring.
It is of no surprise to us that shades Lilac & Violet have been hitting runaways this season.
To be surrounded by natural beauty that displays such color as seen below between budding purple flowers scattered around our Emerald Isle to the purple mountains in the heart of Kerry on the southwest of Ireland – our home never fails to amaze & inspire us to grow with the seasons and the rest will fall into place, just like nature.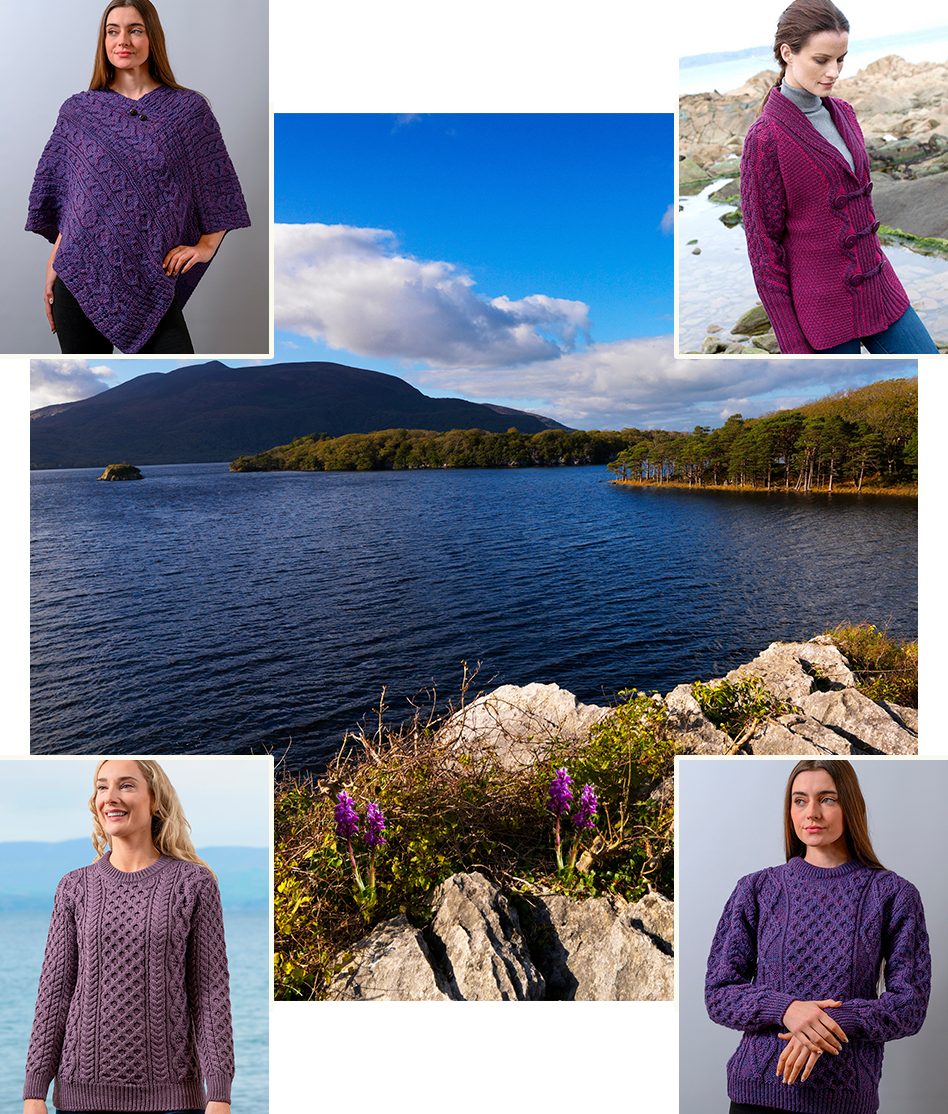 Shop purple shades for her Shop purple shades for him
---
Spring is about renewal, shedding off any old narratives, cleaning out those big chunky winter knits & breathing lighter refreshing spring sweaters into your wardrobe. The natural elements that surround us on our Island home inspire us to create rejuvenating, refreshing tones of blues, yellows, greens, purples & pinks to showcase the vibrant colors spring showcases for us. Just like the sea and sky are connected; we too are connected to the life blossoming around us every day. This season represents the rebirth of life all around us just as our sheep birth their new lambs, shearing takes place to take off the old coat and make room for growth of a new one. Providing us with natural temperature controlling clothing to keep us warm, safe & comfortable all year.
Many years of wear in these sweaters show the sustainability of this craft and how it connects us to the beautiful world around us.
We hope this blog has inspired you to implement the natural energy & liveliness into your wardrobe for a fresh start, it is not too late for you to unfold into your bloom this spring,
Slán Go Fóill!