Mother's Day Gift Guide
Posted by Aran Sweater Market on 22nd Apr 2022
Mother's Day is fast approaching, falling on the 8th of May in many countries around the globe so we have carefully selected our favorite gifts from our luxury range to help make finding the perfect present easier for you. These gifts are all sustainable, practical, thoughtful, and meaningful – the perfect way to show appreciation to your Mom.
For the special day of the year to celebrate the unconditional love we receive from our mothers, grandmothers, and beyond we wanted to help express thanks through our gift guide and help you give something special back to your Mom.
Why not treat your Mother to an Aran Sweater, full of meaning and rich in history? Or a Clan poncho with her family stitch to represent her own name and Irish heritage with pride? We also have matching accessories, jewelry and homeware for those glamorous Moms and house-proud Mammies. To most Moms out there, comfort is most definitely key. We have put together this easy-to- follow guide to assist you with making the best choice.
If your Mom is a fashion icon, who loves to keep up with latest trends, then these are our top picks for her:
Starting with comfort and style, this popular, gorgeous Aran Cowl Neck Sweater is the perfect gift. It is exceptionally soft on the skin and is Irish made of 100% Merino wool. The stitches in this sweater hold great meaning featuring the Aran Cable design which represents a wish for a fruitful day at sea and the diamond stitches to represent wealth and success. Available in fifteen colours we have a perfect shade for every Mother.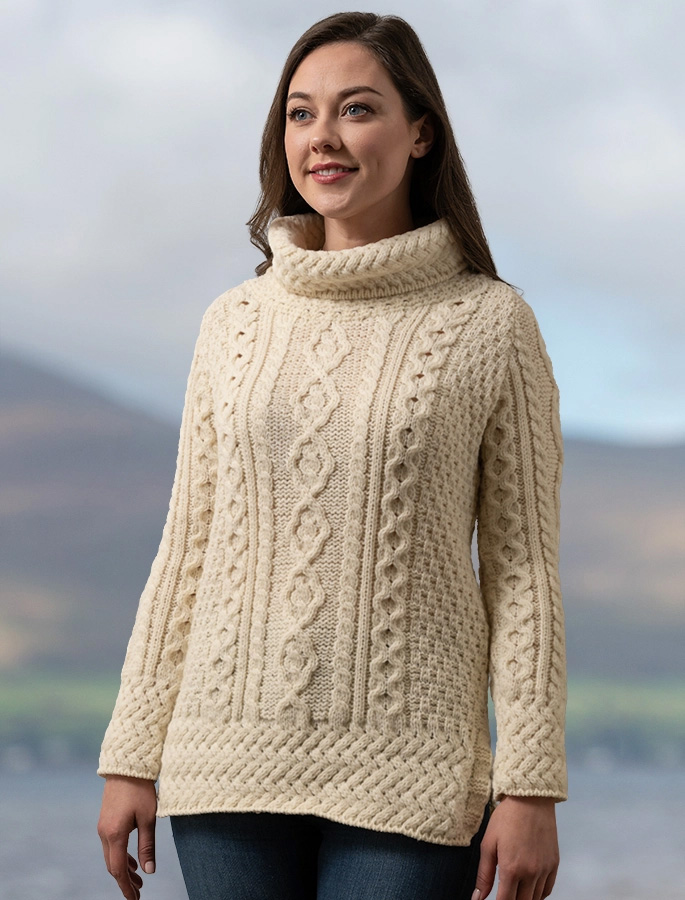 This cowl neck is perfect for wearing indoors or layering up outdoors under a jacket.
Next gift to enrich your Mom's cosy look - we have this spacious, stunning Patchwork Cardigan with Collar. It is in high demand due to its combination of Cable, Diamond and Chevron stitches; this Cardigan is one of our bestsellers. It is exceptionally soft on the skin, is Irish made and is crafted using 100% Merino wool. Light, breathable, and practical all while your Mom stays confident in her style (shop all Women's knitwear).
Perfect for lounging around the house or to keep warm on a day out.
The next gift is for the ladies/Mothers who are fashionista by heart – these glamorous accessories are the ideal gift for someone who enjoys styling outfits as they hold the ability to change and amplify an outfit from casual to glamorous. This Ladies Tweed & Leather Tote bag is one of our top picks. Tote bags became popular in the 80's and they are making a comeback in recent years as they are an alternative to plastic bags due to environmental appeal – which we are more than happy to support the sustainable use of.
This is for the Mom who enjoys style and purpose in her wardrobe (shop our full Bag collection).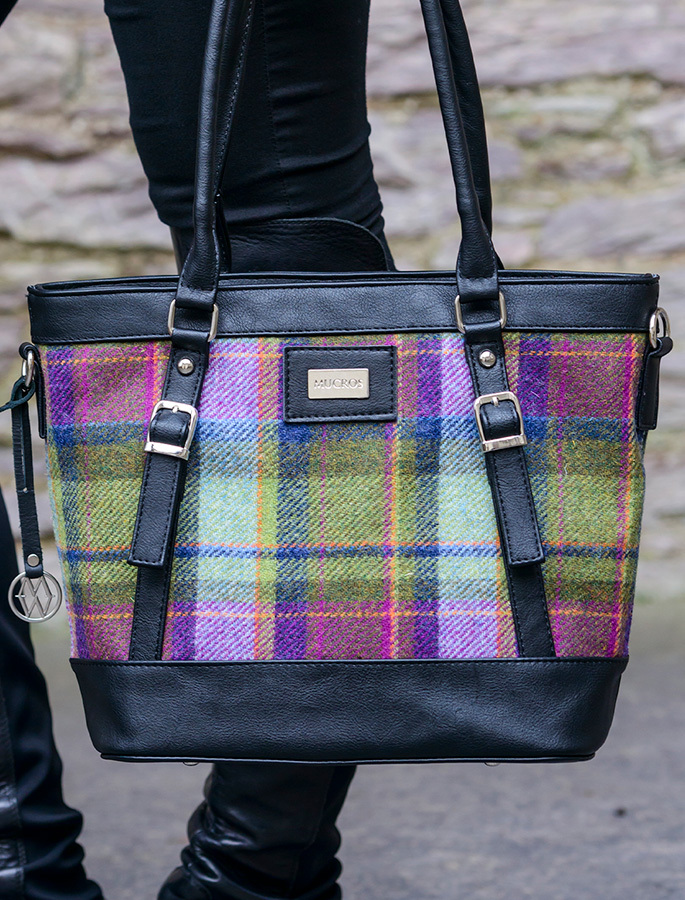 Our Clan Ponchos are immensely popular among many Mothers around the globe.
If you are lucky enough to have a proud Irish Mammy who is appreciative of her heritage this is for you. It has an easy slip-on-slip-off advantage to the wearer. The stunning Clan Aran Poncho is crafted by our knitters in the traditional báinín (pronounced 'baw neen') color, the natural white of the wool. It comes to you complete with a clan history and crest. It is made with 100% pure new wool, is water repellent and breathable. These unique patterns to each family name are the perfect heart-warming, meaningful gift as it holds such deep history within the pattern.
Find your clan here
As Celtic Jewelry is so highly sought after because of its ancient designs and exceptional craftmanship, it is adored by people all over the world. The Celtic designs are not only stunning to look at, but they also hold such deep meaningful variety of styles that add eye-catching aesthetic to every outfit. A Claddagh design represents Loyalty (the crown), Friendship (the hands) and Love (the heart). All the things our Mothers gift us every day – a beautiful way to show and represent your appreciation for her love.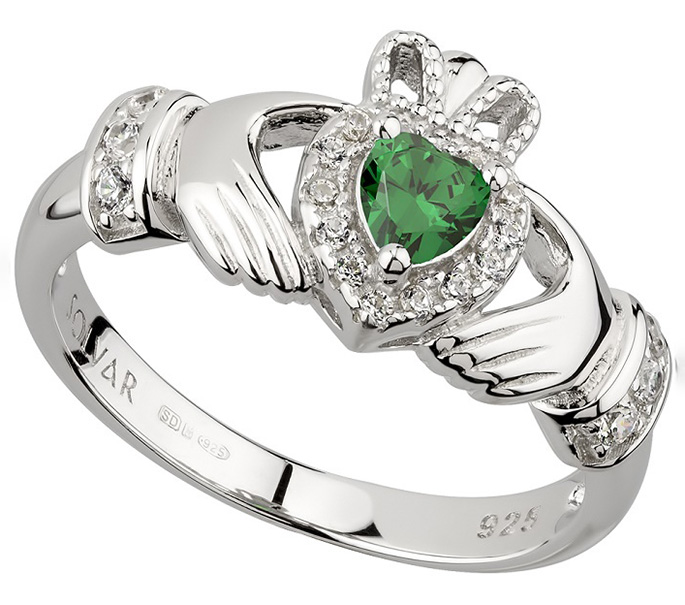 Next up we have these glamorous matching accessories for that stylish Mammy.
Both the Newsboy Hat and Mucros Weavers scarf to match are the ideal combination as it is two gifts in one, made with high quality tweed this hat and hand-woven merino and cashmere scarf, they can be paired together or worn separately making them a practical, affordable, and versatile gift (shop our full range of Women's Caps & Hats).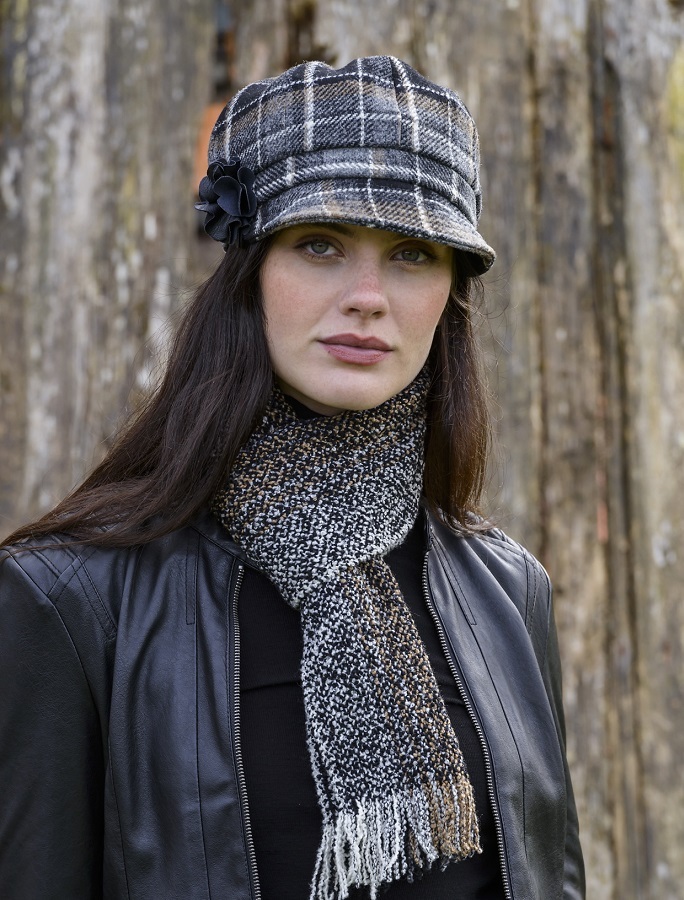 Last but certainly not least is for our house-proud Moms around the world. A wool throw is an essential piece for every cozy homeowner.
Whether she snuggles up watching her favourite TV shows or reading her book by the fire – a wool throw is the perfect gift for your Mom as each time she wraps up in this super soft throw, the warmth and comfort will remind her of your unconditional love. Keep your Mom cozy and warm with this gorgeous Wool & Cashmere Grey & White check throw.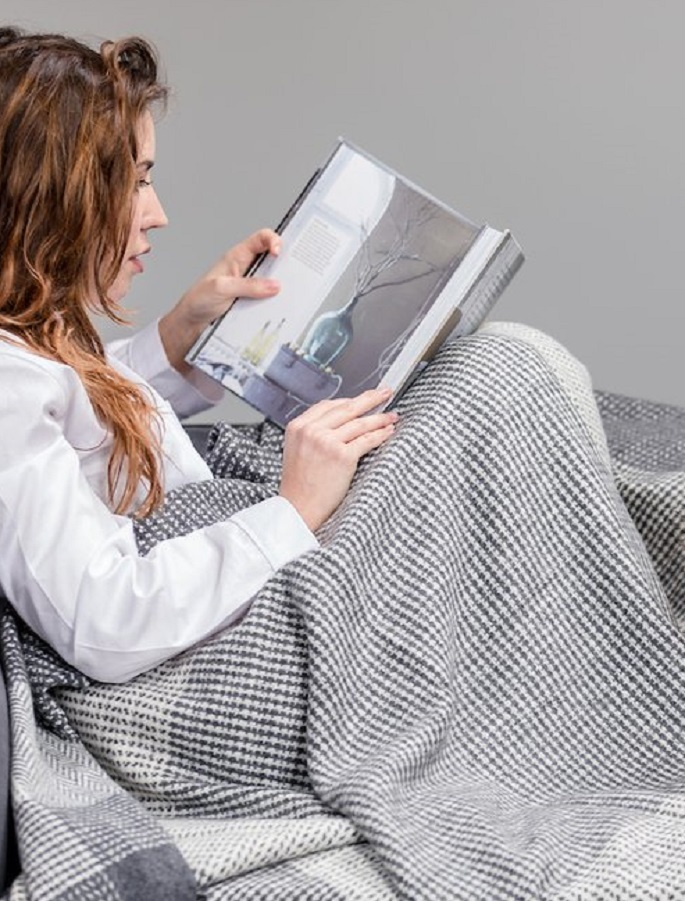 We hope this blog has given you some ideas and inspiration on how your gift to your Mother can be affordable, meaningful and heart-felt. How ever you celebrate this special day, we hope you get to make some more special memories on Mother's Day.
There is no other love like a Mother's love.
Slán go fóill...