Dote On Dad This Father's Day
Posted by Aran Sweater Market on 9th Jun 2022
Dote on Dad this Father's Day with authentic gift ideas with Aran. It is the perfect day to pay tribute to all the dads in your life - whether it's grandfathers, fathers, godfathers, stepfathers and soon to be fathers, we all have someone to spoil this Father's Day. It is also a day to show appreciation for the relationships in your life as this day is primarily about connection, love, and heritage.
"Any man can be a father, but it takes someone special to be a dad" with this in mind and Father's Day approaching, we have picked some of our most timelessly stylish pieces this season to help ease the gift giving process for you & to show Dad your love and appreciation with a gift of Aran.
Give the gift of 'Comfort' with an Aran bodywarmer, Diamond Stitch Cardigan or V-Neck Aran Slipover. Ideal for dads who like to embrace the great outdoors. Made from pure new wool which is long-lasting and durable. These pieces are stylish yet traditional, featuring the diamond and cable stitches which are thought to bring success to its wearer.
Meaningful Aran stitches
Comfort all year round
Versatile
Practical & Lightweight
Available in full range of diverse colors
Give the gift of 'Style' this Father's Day with a casual fit Grandfather Shirt, Classic Tweed Waistcoat, or Traditional Irish Flat Cap. These stunning pieces are a perfect staple in your dad's wardrobe. They are an ideal addition to a suit for all special occasions or casually worn with chinos or jeans for a family lunch or meeting friends.
Effortlessly stylish
Timeless classics
Lightweight & durable
Casual & formal wear
Versatile
Give the gift of 'Heritage' with a Clan Scarf, Clan Aran History Display or Clan Aran Sweater.
These hand-crafted gifts are sentimental and connect the wearer to their Irish heritage. Each Clan Aran name has a unique pattern which has a deep history and meaning to your Clan. If your dad has Irish heritage, then this would be the perfect meaningful gift for him this Father's Day. Find your family's clan name here
Connection & Sentimental
Hand Knit Using Original Clan Stitches
Unique Patterns Of 300+ Family Names
Ultimate Gift of Irish Heritage
Authentic Family Heirloom, 100% Wool
Hand-crafted with love
Give the gift of 'Meaning' with our Celtic Jewelry including our Claddagh Ring, Celtic Knot Pendant or Celtic Knot Cufflinks. Men's Celtic Jewelry is always in fashion and gone are the days when it was limited to a single wedding band - jewelry for men is stylish and oozes confidence. Our Claddagh Ring symbolises Love, Loyalty, and Friendship while our Celtic Knot Pendant and Celtic Knot Cuff links symbolise enduring love & the timeless nature of the human spirit. A beautiful way to show your love this Father's Day.
Crafted of Sterling Silver by master Irish silversmiths
Reflects meaningful symbols of Celtic Ireland
Hallmarked by the Assay at Dublin Castle
Gift boxed
E-gift is a smart choice if you struggle with finding what exactly your dad would like. The best gift is the gift of choice: E-certificates from $20 to $250 are available on Aran.com to suit every budget while being a thoughtful and considerate gift.
Instant email delivery
Even more choice for Dad
Easy to redeem online
Convenient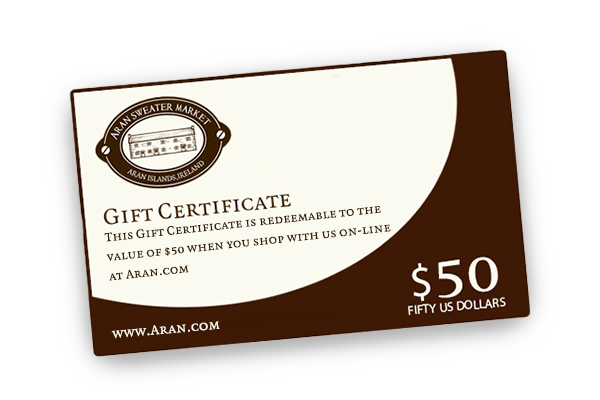 Father's Day is a moment of celebration of the bond between a father and child, whether you are near or far. The love exchange between a dad and their child is something incredibly strong and special – this is to be celebrated for sure. We hope you enjoy this day to all the wonderful dads out there. Slainte to you. Hopefully, this blog has helped put your mind at ease and inspired you to give the gift of meaning this Father's Day.
Until next time… Slán go fóill