A Gift For All The Family This Christmas
Posted by Aran Sweater Market on 19th Nov 2017
We've spent the last few weeks getting ready for the launch of our Aran Christmas Store where we've handpicked some of our all time favorite accessories and sweaters, guaranteed to keep the whole family warm and cozy for the coming season.
Here we talk through some of the special products featured in our new Christmas campaign as well as why each one would make a very special gift this season. Enjoy folks!
Our Merino Wool Cable Knit Hat is a classic buy for the Winter season. Thick and chunky, it's a stylish yet cozy choice which comes in a whole host of colors to suit everyones taste. This includes green, derby grey, denim, misty blue and natural white but we have to admit that festive red is our absolute star buy for the upcoming Christmas Season.
We've paired our Cable Hat with one of our bestselling accessories from the past year- the Snood Scarf with Buttons. This luxurious Cable Scarf which also features the popular Aran cable stitch can be worn as a regular scarf as well as a snuggly snood.
A real must have for those chilly Winter walks and the perfect practical present for Christmas.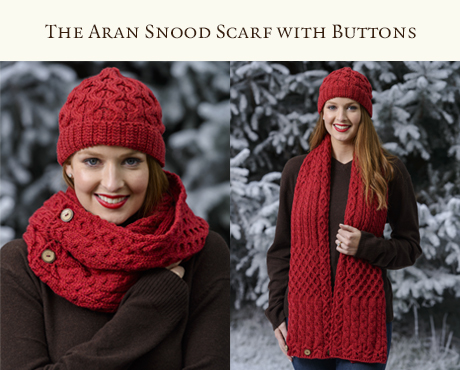 Brand new for this year is our Ribbed Wool Troyer Sweater, inspired by the old style fisherman's submariner sweater. We choose it in classic navy to capture the magic of a family Christmas in our recent ad but it's also available in silver marl, steel marl, atlantic and denim blue.
Crafted from Soft Merino Wool, it's a fantastic sweater but also a great outer garment when layered underneath for holiday outdoors activities.
Who doesn't love a Winter hat that you can just pull out of the cupboard year and after year and still remain on trend? If you aren't lucky enough to have met your eternal hat match yet, then our fleece lined Aran bobble hat could be your best investment this year.
With a fleece lined interior, its warmth is unrivalled and its aran stitching and fun bobble will ensure you are forever in fashions favor. A fantastic cozy buy and stylish gift this season.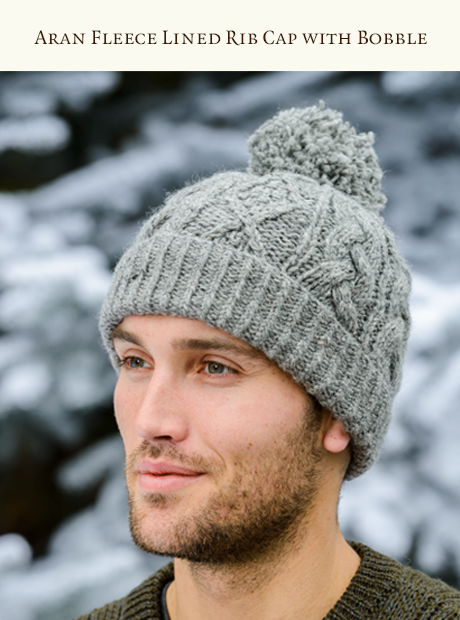 Of course Christmas would not be Christmas without our little folk so we have selected two of our favorite sweater styles to ensure your little treasures are not left out in the cold so to speak.
First up is the Double Breasted Aran Merino Cardigan which doubles as a coat for those milder Winter days. This Aran wardrobe staple is also available in festive red and white as well as vibrant green, our favorite for a true Irish cailín.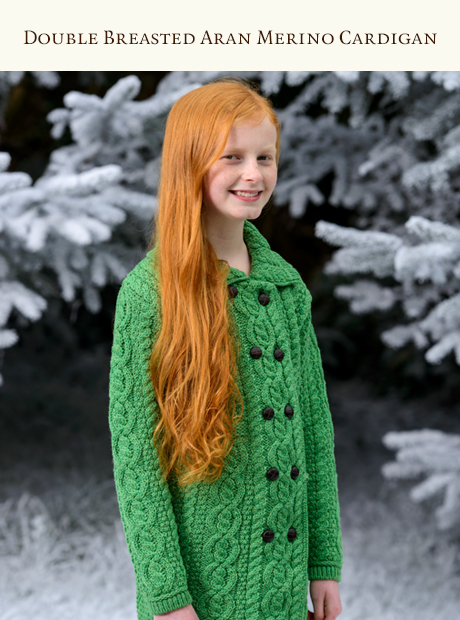 A traditional Aran Sweater is also a classic style for your little one this festive season and beyond.
Crafted from soft merino wool and featuring the ancient aran cable stitch, symbolizing luck, this sweater is a great choice for the little ones who love big adventures in the great outdoors.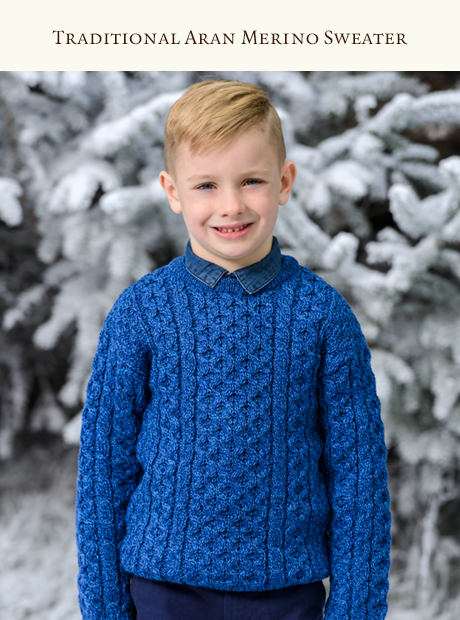 We hope we've given you some inspiration for wrapping up your loved ones this Winter season as well as the all important gift giving period.