Timeless Beauty- Behind the scenes of our Autumn Aran Shoot
Posted by Aran Sweater Market on 29th Jul 2014
This week was an exciting and busy week for the Aran Sweater Market as Monday morning saw the team set off into the wilderness of Kerry for a photoshoot to promote the brand's new Autumn Collection for the coming season.The shoot which took place on Monday was shot at over five different locations, from the breathtaking Gap of Dunloe to the dark and mysterious beauty of the Black Valley, as well as the stunning scenery of Muckross National Park.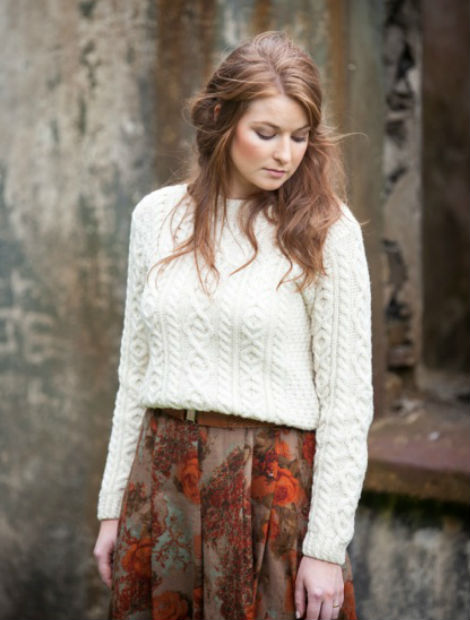 The theme of the shoot was centred around the concept of Timeless Beauty, taking inspiration from the brand's deep rooted Irish heritage and natural affinity for the dramatic yet simplistic beauty of nature, mirroring the natural origins and history of the product itself. The shoot also took into consideration the brand's love of memories and its nostalgia for a time gone by whilst overlaying this with a current and contemporary feel, much like the Aran product itself. The Aran Sweater which has transended fashion trends, predictions and faux pas for decades continues to be known globally for its timeless fashion status. Rustic cottage ruins, dramatic waterfalls, wild horses and rugged hillside climbs are just some of the scenes which tell the story of the Aran Autumn Collection.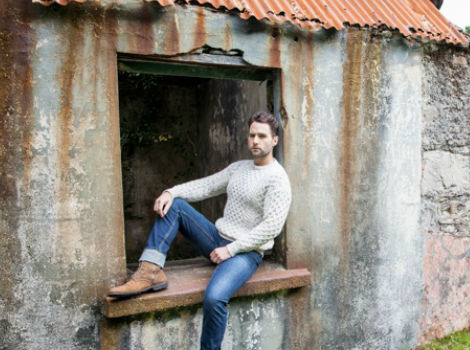 The products for the Autumn range consist of some of our old favourites including the lightweight Aran Sweater in classic cream and oatmeal and Celtic designed wraps in scarlet and vibrant blue. It also highlights some new trends for the coming season such as the Aran Sweater Dress in a striking cobalt blue and a variety of beautiful capes, an essential wardrobe staple for the Autumn. Messy fishtail braids, vintage floral skirts and gold pendant jewellery inspired by nature were just some of the key accessories used to dramatize the looks and accentuate the wild and natural mood of the concept.
The garments were modelled by the stunning Lisa Kavanagh of Assets Agency and international model, Sam Homan of Morgan Agency who captured the romanticism of the brand effortlessly. The moments were captured by Fashion, Lifestyle and Wedding Photographer, Neil Clarke and hair and make-up was by the talented Audrey of Upstyle Junkie .
The Autumn Collection will be officially launched in mid-August and all of our customers who are registered for our news and updates will be amongst the very first to receive a sneak peak at the collection as well as a very special Autumn Offer. If you are not already signed up, then please do so here. We are looking forward to sharing more details from the day with you very soon.