Spring Into Aran
Posted by Aran Sweater Market on 25th Mar 2016
We can't quite believe thats it's Easter already but chocolate eggs aren't the only reason we're getting excited here at the Market this weekend. Like many others around the world, we're looking forward to the long-awaited stretch in the evenings, that first glimpse of golden sunlight in the morning and the return of the glorious sand to our island's beaches along with all the other wonders that herald the arrival of Springtime. Of course, along with a new season comes new style and we have lots of Aran treasures, old and new, to get you in the mood for giving your wardrobe a good old-fashioned Spring clean.
The long-length Waistcoat is still bang on trend for this Spring/Summer so we're predicting big things for our Cable Aran Wasitcoat. This style is the ultimate multi-tasker, as it looks just as sophisticated with a sleeveless tee as it does with a light polo as shown here. It also comes in natural white, wicker brown, denim, lavender and misty blue so there are lots of seasonal shades to tickle your fancy for the warmer months ahead.
Without a doubt, one of our favourite things about the warmer weather is being able to spend more time on our beloved beach of Kilmurvey but even on the warmest of days a good Aran blanket is well recommended to protect against the force of the strong Atlantic sea breeze. This merino wool throw which features the diamond stitch, (said to represent wealth in ancient times) is one of our firm favourites for Spring.
And what good is a trusty throw without its fellow cushion companion? We don't know about you but we think it's always a good idea to have a little cushion for lounging on those lazy beach days and our Aran- Knit Cushion Cover, also featuring the traditional diamond stitch, ensures instant style status as well as comfort.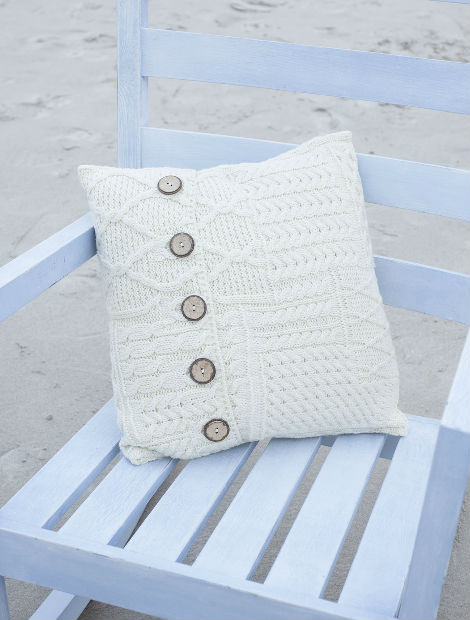 Another beautiful style we're predicting will be popular this Spring is our Plated Merino Wool Cardigan. You're guaranteed to make waves with this number as its plated technique provides a truly unique style. This method of two-toned weaving blends together two shades of the one colour, resulting in a striking 3D effect to the Aran pattern. This light-wear coatigan is perfect for Spring and Summer with its easy throw-over style. It also comes in a range of pastel blends such as soft grey & misty blue, soft grey & denim and natural white & parsnip as shown.
Our Single Button Aran Trellis Cardigan also showcases the unique plated technique to full effect whilst also providing a warmer safeguard against those chilly Spring evenings. Its one-button style allows the wearer to feel the full effect of Aran much like a sweater whilst still having the option to leave open as a cardigan.
This style also comes in some great seasonal shades such as soft grey & misty blue, soft grey & medium grey, natural white & parsnip, as well as soft grey and denim as shown.
We hope these styles help to wash away those Winter blues while we busily prepare some more new seasonal favourites over the coming months. Until then, we would like to wish all our friends and customers a very Happy Easter and a wonderful weekend.
Cáisc faoi shéan agus faoi mhaise duit!