On Trend and in Aran- Our Top Tips For Men's Fashion this Autumn- Part 1
Posted by Aran Sweater Market on 20th Aug 2014
With the onset of those longer evenings and chillier mornings, its time to finally say goodbye to our much loved t-shirts and ice-cream sundays and hello to cosy knits, open fires and cups of steaming hot tea, as we get ready to welcome Autumn 2014.
Here at the Aran Sweater Market, we are huge fans of the colder months as they typically represent the best time for our beautiful hand knits come into their own. To celebrate we've decided to delve into our own Aran Autumn wardrobe to see what's in store for the coming season.
1. Think Green
And its out with the grey and in with the green it seems! After making several appearances on the catwalks of Paris, Milan and London, the autumnal hue is certainly proving popular this season. In light of this, we've chosen our famous Hillwalker Sweater in grassmere as one of the key features of our Aran Autumn Collection.
The Hillwalker Irish Sweater, although not typically Aran, is popular worldwide for its resilience, durability and protection from rough weather, making it perfect for all outdoor pursuits, especially the wild weather of Inismóre!
The ribbed sweater is made of 100% wool and is double knit with a double cuff and basque. Although the design overall may appear understated there is discrete detailing on the neck, chest and sleeve. We think our model Sam looks great in the army green version themed with a tweed flat cap and denim jeans. The sweater also comes in a selection of other colours such as navy, oatmeal, kiltimagh, (medium green) blackwatch (forest, navy), black, granite, denim and red.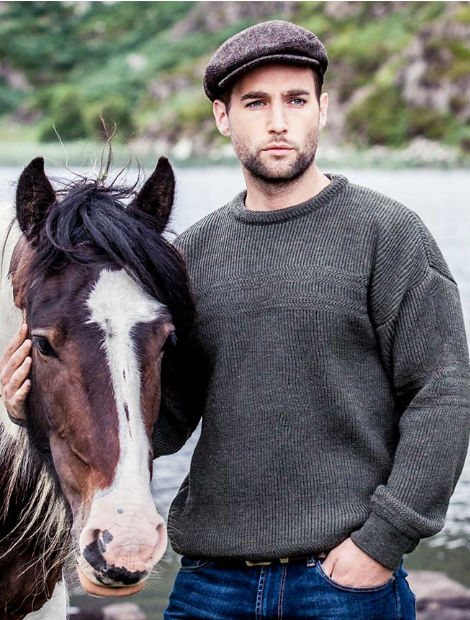 2. Remember the Turtleneck
We are delighted to see the turtleneck sweater making such a big comeback this season but while many leading designers such as Tom Ford are choosing to interpret the trend as a fine-gauge style underneath a tailored suit or statement jumper, we are dreaming of thick and chunky fisherman styles. This Men's Turtleneck Wool Sweater in navy is made of 100% Merino Wool and also comes in charcoal, natural white and beige with fleck.
This turtleneck uses the honeycomb stitch which was traditionally said to be a sign of luck for those fisherman who risked their lives on the perilous seas of Aran. Here we've themed it with blue jeans as a standalone garment but it could also be worn layered underneath a long woollen coat for those more sultry Autumn days.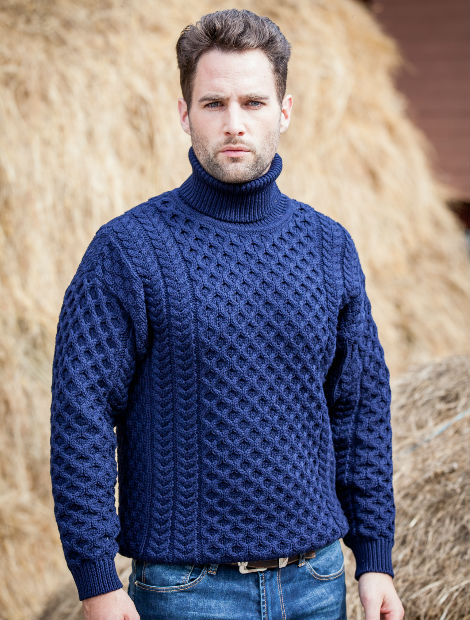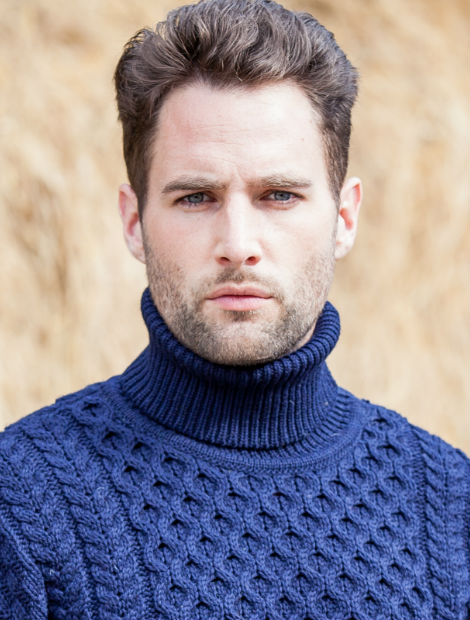 3. Mix it Up
The mix and match of various textiles,patterns and fabrics has been commonly on trend for the past few seasons and is certainly one which we here at the Aran Sweater Market are very fond of. For our Autumn Collection, we've paired our Aran Men's Lined Bodywarmer in a silver grey with a blue denim shirt and black jeans for a look that's both casual and stylish. The windproof garment is also available in nightshade blue and fern green.
One of the more important things to bear in mind when mixing textiles in this way, is to choose a statement piece to tie the outfit together. We think the use of this tweed scarf in black and brown picks up the accents of the denim and wool perfectly, whilst also contrasting nicely with the unique Aran style.
Stay tuned for some more top tips for this Autumn.............