Our Festival of Pátrún Still Going Strong
Posted by Aran Sweater Market on 1st Jul 2015
Last weekend was a colourful one for us here on the Island of Inis Mór as our Island neighbours from near and far descended on our humble abode for the Annual Pátrún Festival.
The three day Summer event sees members of the local community come together to take part in a range of fun filled activities to commemorate the Island's Patron Saint, Enda. Here we explain a little bit more about the festival's annual rituals.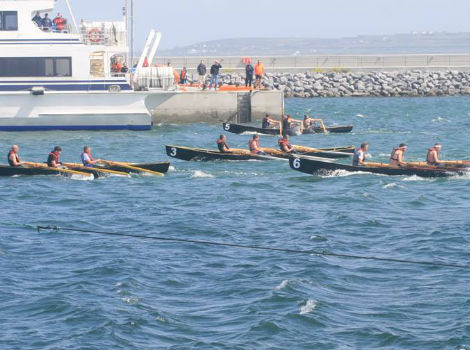 Our festival's very foundations are built, not only on age old Irish traditions, but also some unique to the West Coast of Ireland like our famous Currach Boat Racing.
The Currachs themselves are reminiscent of old Island life and are in fact modelled on the original boats used by the Fishermen of the Island who braved their lives on the Atlantic seas all those many years ago. These lighter and speedier boats ride high on the waves and are steered only by the breeze and the strength of those Islanders who man their oars.
This year saw the Carroe Team scoop first place – just winning the race by a whisker ahead of Inis Oírr – something us Islanders are sure to hear about for weeks to come!
One might say, us Islanders are creatures of habit and they may not be far wrong if these images of the Pátrún festival from 1984 are anything to go by. Its certainly true that the popular sport of Currach Racing (and more importantly the spectatorship of it) continues to dominate the festival's calendar and remains the highlight of the weekend.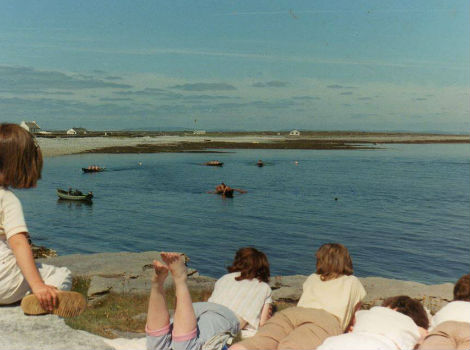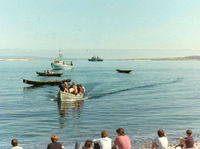 Traditional Irish music & dance also acts as a backdrop to the entire festival with young and old, taking to the outdoor stages and local bars, like our favourite Joe Watty's, to showcase their talent as part of the festival's programme. This video just sums it all up for us.
Awarding the Queen of Pátrún is also amongst the highlights and traditions of the festival. Each year a number of local girls over the age of 16 take part in a competition to rein over the festivities for the entire weekend, in what is still to this day, a time honoured tradition.
Sandcastle sculptures, tug of war displays and other novelty exercises like Guinness races (no not involving downing pints) are amongst the other ways in which people participate in the festival and its age old traditions.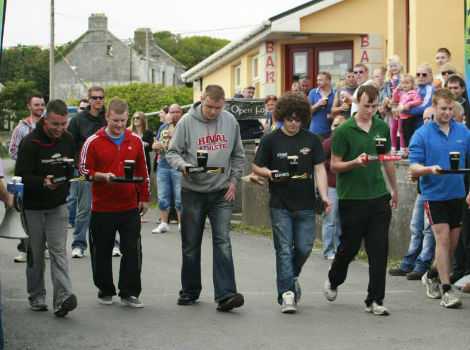 Whilst the event has come and gone for another year, we hope our account of it has given you a little insight into Island life and why events and festivals such as Pátrún are so very special in celebrating not only Irish tradition but also our way of life.
Are there any festivals which are key to celebrating your culture and community? We want to know so please do share with us right here…. until next time, Sláinte!