The Celtic Ruana - The Classic Contemporary with a link to long ago.
Posted by Aran Sweater Market on 8th Sep 2014
With the arrival of one of our favourite seasons, also comes the return of one of our most beloved trends, namely the blanket trend which is set to make a huge impact this season. The trend has recently seen designers from all four corners of the globe, most notably Burberry, get up-close and personal with their own wonderful woollies, making the throw, ruana, wrap, poncho and yes...... even the manket, this season's lust-have fashion accessory.
So who knew stepping out in a blanket could be considered fashionable ? Admittedly, the Aran Sweater Market has long been a supporter of this style, not only because of its flexibility to wear but also because of its adaptability of style, allowing you to dress it up and dress it down, depending on the occasion. The cherry on top is its ability to keep the wearer warm, cozy and comfy, whilst looking effortlessly stylish and elegant. We think this ideal is showcased perfectly in the form of our very own Glenaran Celtic Ruana, which features heavily in our latest Autumn Collection.
Here we explain the story of its unique and magnificent design as well as some of our favourite ways of how to wear a Celtic Ruana.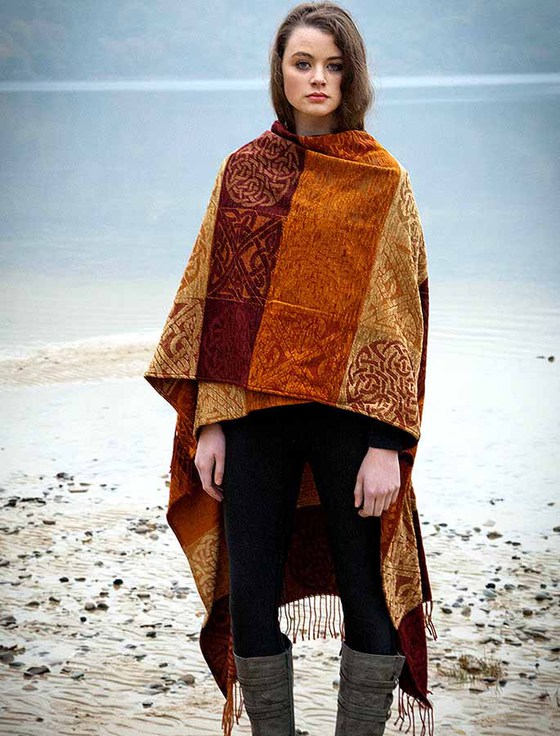 Whether it's the ancient ruins dotted throughout our countryside, the commanding crosses in our burial grounds or the original designs that continue to inspire Irish craftsmen and designers alike ... there is endless evidence of how the mighty Celts left their legacy on our history and our hearts. Our own Celtic Ruana is a strong reminder of the power they still weave to inspire even today's fashions, as it pays homage to Celtic symbolisms using the circular and shield knot.
Circular knots where commonly used symbols throughout pre- Christian times, said to represent eternity with the design itself having no defined beginning, middle or end. It has also been identified with the circle of life and thought to signify unity and the family.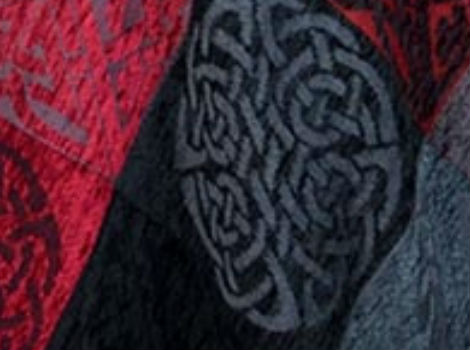 The second of the knots, the shield knot which is equally as dominant in the garment's design, was thought to be a symbol of protection, used to ward away evil spirits. It was a common visual on battlefields which likely explains the origin of its name.
Perhaps the most traditional way to wear the Celtic Ruana is thrown over the shoulders to form a double cowl neck as our model Lisa shows here. She wears the garment in Stirling, a unique combination of vibrant blues and navy. Paired simply with black jeans and black riding boots, the style itself is low maintenance, letting the luxurious quality and elaborate style of the garment make it a natural statement piece.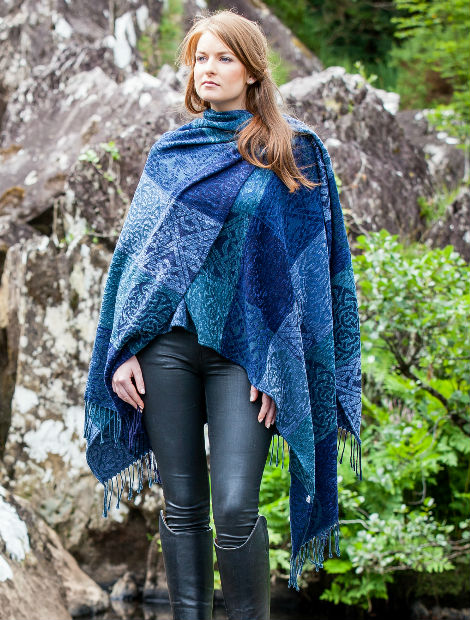 For our second style we've chosen the wrap in Knotflodden, a combination of charcoal and black with splashes of dramatic scarlet, to create a more understated but nonetheless striking look. We've styled the Celtic Ruana differently by fixing a leather belt around the back of the garment and tying it at the front, to highlight how it can also be worn as a coat. This time, it's paired with a white shirt ensuring to highlight the unique blend of colours and patterns from within the design.
The wraps are available in eight other beautiful combinations, including one in Autumnal hues to celebrate this season.
We believe the real beauty of this style lies in its versatility to be worn in a number of different ways as chosen by the wearer. Indeed some even choose to wear it as a skirt! Please do share any ideas on how you wear yours with us as the season unfolds. We would love to connect with you.