Aran Summer: How to get your Winter Woolly into Sunshine Mode
Posted by Aran Sweater Market on 19th Jun 2015
That bargain leather skirt you found years ago in the corner of your local thrift store, your favourite pair of old faded jeans, those suede ankle boots that just never go out of style….. there are a certain number of old reliables in all our wardrobes no matter what the weather does and we count the Aran Sweater as one of those faithful classics.
This week we've been brushing up on our style tips and looking at some of the best ways to wear Aran for the summer season. We've picked some of the most stylish trends from the fashion blog scene to help give you plenty of style inspiration. So get ready to dust off your Aran woollies and give them some summer mojo!
Short and Chic
What better way to dress up your old pair of denim shorts or cut offs, then with a big chunky fisherman's sweater! We're a huge fan of this trend as it allows you tokeep warm on top for those chilly evenings whilst still showing off your summer style. Keep it dressy or casual depending on the occasion…….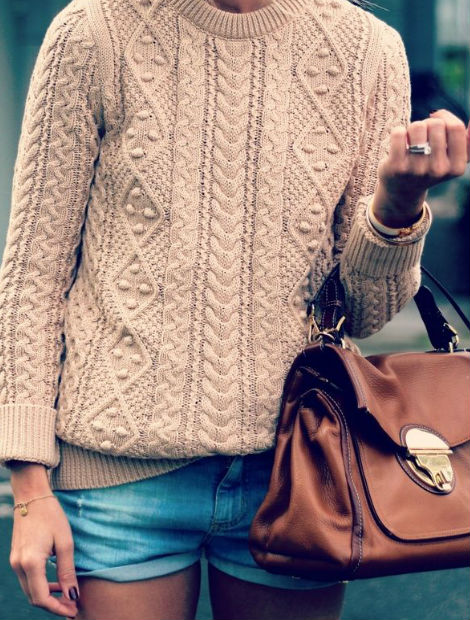 Aran Sweater with denim cut offs found on tilda.metromode.se
Chunky Knit with denim shorts found on popsu.gr
Aran Sweater Market Merino Wool Sweater paired with summer shorts
Keeping it Casual
You just can't beat a good Aran Sweater and jeans combo, but we love the little twist that roll up jeans brings to the classic pairing by adding a little summer flair. These boyfriend style jeans are fantastic mixed with heeled or flat sandals for a dressed up or casual vibe.
Bubblegum pink with Aran Sweater & rolled up jeans as found on refinery29.com
We simply adore Australian fashion blogger Michelle StyleFile wearing our very own Aran Boatneck Sweater paired with roll up jeans and leopard print pumps- just add some sunnies for instant style status !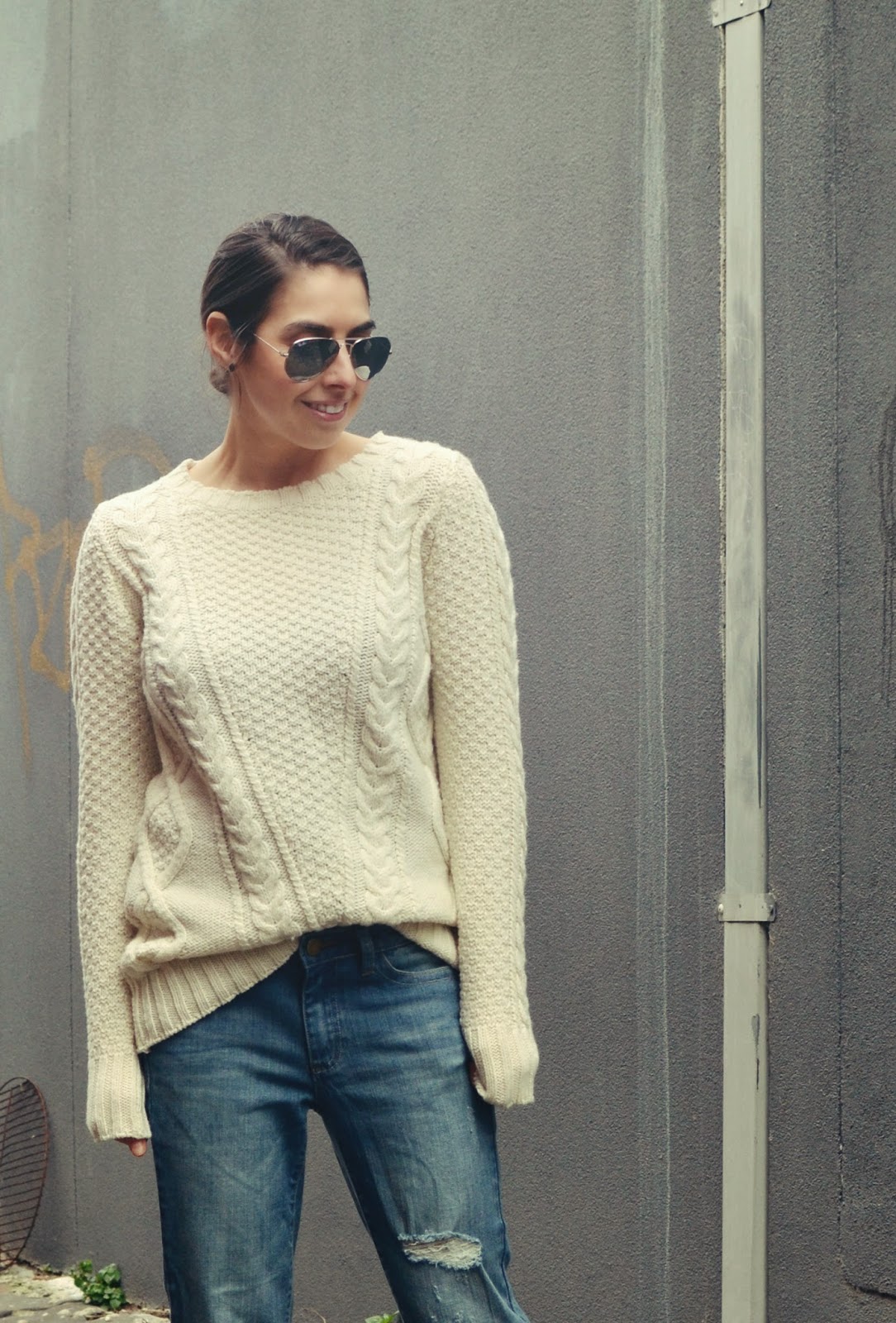 Australian Blogger Michelle of Michelle's Stylefile wearing our very own Aran Boat Neck Sweater
Mini A GoGo
The mini skirt is a must have summer essential so its not surprising that many people are fond of pairing with an aran sweater. We love a slouchy style with a fitted mini for a causal and relaxed feel.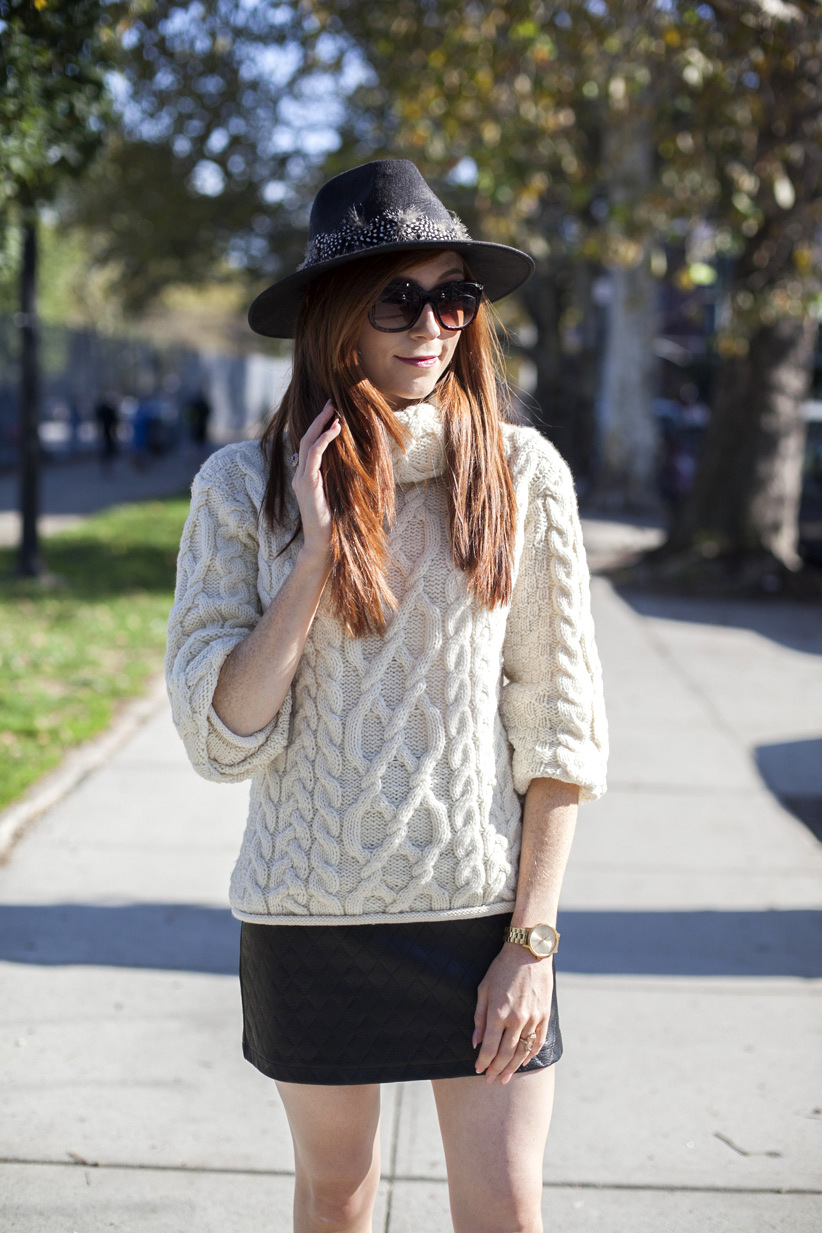 Aran Sweater Market Merino Wool Turtleneck as worn by Irish Blogger Retroflame
Retroflame in Aran Sweater Market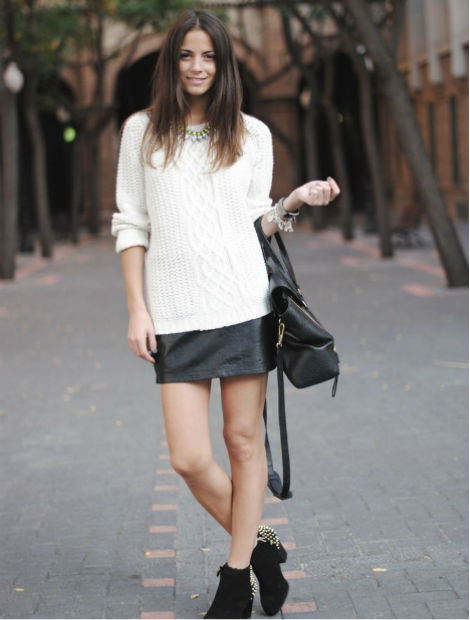 Aran Sweater & Leather Mini found on socialbliss.com
Don't be afraid to experiment with different prints and patterns as its surprising just what Aran will take. We especially love the way it works with even the most outrageous of prints like leopard and other animal prints to give a fresh take on the trend.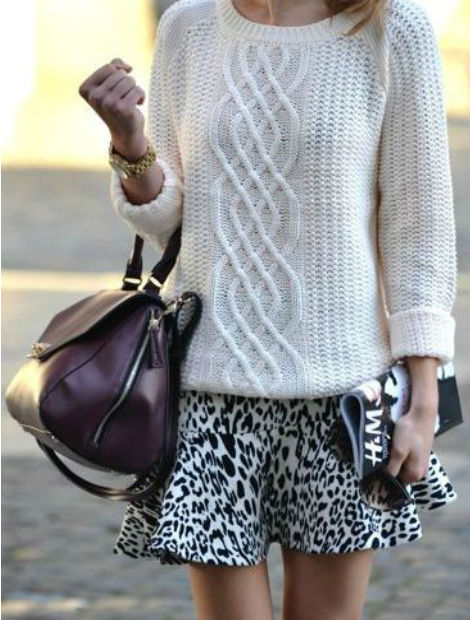 Midi Cool
The midi skirt is still in vogue and we're huge fans of the trend. Go for a fifties style like British It Girl, Alexia Chung or a figure hugging style as also seen below. There's really no better pairing for an effortless elegant style, although we do fear that you may need to be on the taller end of the scale to really pull off this trend.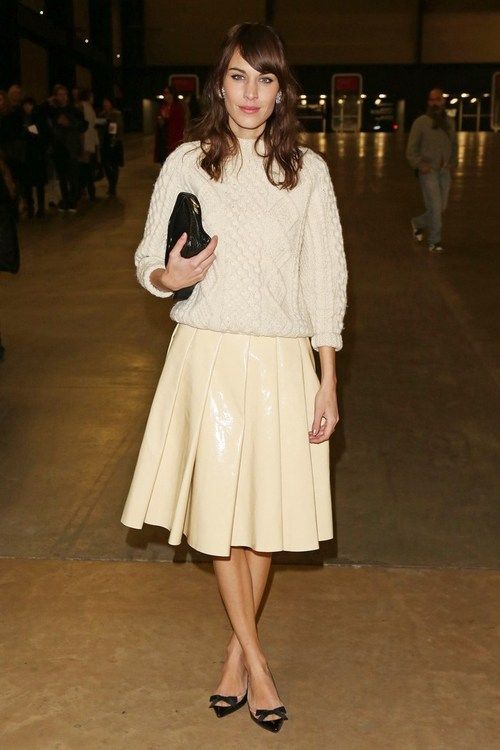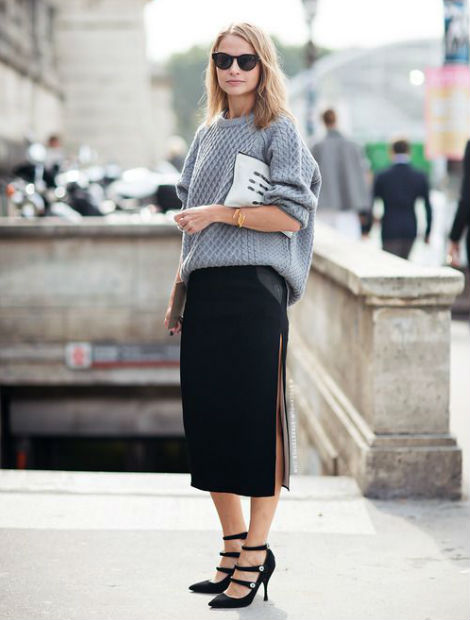 Chunky Aran Knit with Midi Skirt found on Fashion-gone-rogue.tumbler.com
Pretty in Pastel
Pastels are another hit this season and what better way to entice a summer frame of mind than wearing all your favourite ice-cream shades. From long flowing skirts to frilled minis and even pastel coloured jeans, Arans look great with this girlish style and utterly transform into the summer necessity we never knew we had. We love the addition of a floppy hat to balance and merge the two different styles.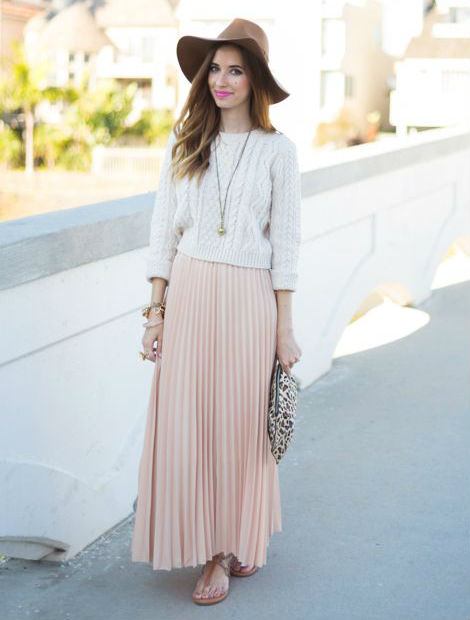 Aran Sweater & Pastel Frilled Skirt found on forum.ellegirl.nl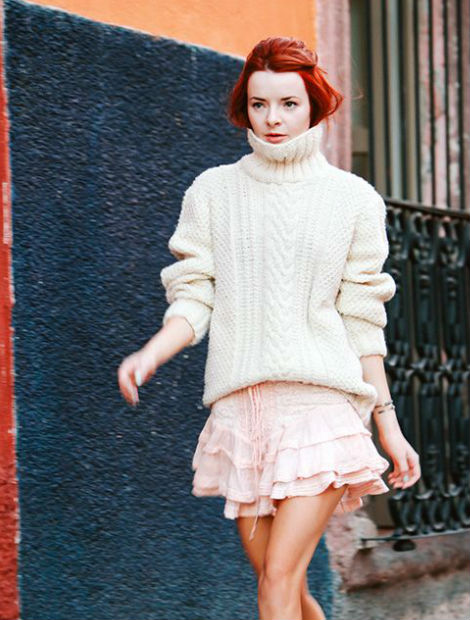 We hope you enjoyed our style inspiration and even use it to mix with your own unique style.
We would love to see how you are wearing your Aran for the summer so please don't forget to share with us right here. In the meantime we're off to enjoy the sun while we still can !