The Manket, Forever in Fashion or a Fashion Fad?
Posted by Aran Sweater Market on 19th Nov 2014
Ever since the emergence last year of stylish men stepping out in garments resembling chequered tablecloths, we've been fascinated by the Manket trend and have enjoyed many heated debates here in the Aran Sweater Market on whether it will become a firm fashion favourite or just another flash in the pan.
Here we take a closer look at the trend to unearth its influences and modern appeal and also have a quick peak at our very own Lambswool Manket and how we've styled it for our latest photoshoot on the Isles of Aran.
Origins & Influences
Helped along by fashion houses such as Burberry, Missoni and Louis Vuitton, the term Manket has only come to light in recent years, however the origins and inspiration for the cape-come-scarf hybrid for men can be seen throughout history.
Indeed, its true that the natives of South America have been sporting the trend for centuries, long before the term was coined. This watercolour by Manuel María Paz from the 1800's, depicts three young men wearing Ruanas (Latin American style of Poncho) made from Alpaca or Llama wool. The Ruana differs slightly from the Manket in the sense that they usually have a hole cut out for the head, yet the overall idea and inspiration is similar.
Indian Chieftains dating as far back as the 17th century wore ceremonial type blankets at special occasions which were prized for their beauty as well as their warmth.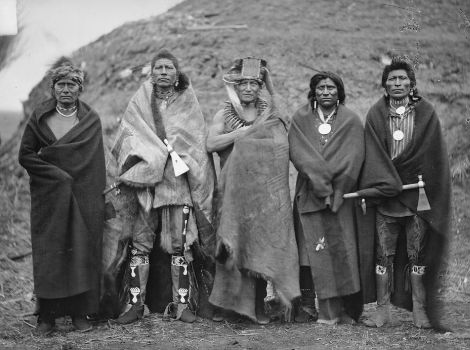 Closer to more modern times, the style could have also have been inspired by old Western movies. We are huge fans of this image of Clint Eastwood wearing a poncho style garment on the set of the much loved film; The Good, The Bad and The Ugly in 1966.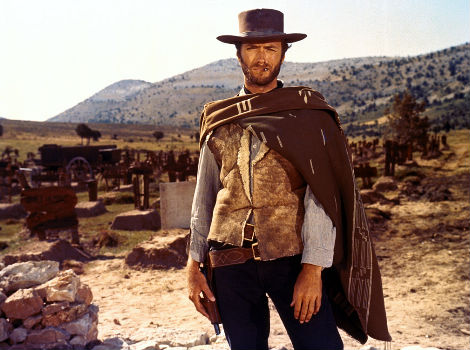 Fitting the Timeless Fashion Mould
While its hard to define what exactly makes a garment a timeless fashion staple, we think its fair to say that its a fine balance between style and substance. Not only does a garment need to look good, it also needs to provide a certain practicality to the wearer as well as possessing the quality to last year in and year out, surviving typical fashion fads.
Forgive us by going off point briefly, but take our very own Aran Sweater for example, a trend which first became famous in the 1960's through its appearance in Vogue. Why has its appeal transcended generations to still remain a firm fashion favourite? We believe its appeal lies in its quality and practicality as well as its style. Most of our own very customers will tell you they have their Aran Sweaters for years, with many passing the precious knits down to their children and grandchildren. They are also versatile garments, worn to give great warmth and comfort to the wearer, often without the need for a coat or outer garment.
So if we liken these types of qualities to that of the Manket, how do they compare? Is the style durable? Is it easy to wear? Is it practical?
Yes, we think it has a certain potential. Firstly the garment can be worn a multitude of different ways and secondly how much more practicality can one garment have? Wear it as a snug scarf or a cosy cape, this style can even moonlight as a picnic blanket ! What more could the modern man want?
Our Take on the Trend & Some Tips
Its clear we think the trend has what its takes, so for our recent Aran Isles shoot we featured our very own Manket made of superfine lambswool with the help of our rugged Model Alan Byrne. Alan himself, was a huge fan of the trend which made the styling all that much easier. We featured our Manket in Turf - a tonal blend of beautiful rusts, greens and ambers - ideal for the darker colder months. We paired it with simple black jeans, black boots and a skinny black long sleeve t-shirt underneath for maximum impact.
Here's what we learnt about styling the trend and our top tips to pulling it off:
1.Take the Masculine Approach
With so many women's versions of the garment out in force this season - Capes, Pashminas, Ponchos, Shawls, the list is endless - the Manket trend can often be mistaken for being girly or feminine. Make sure to channel your inner Clint Eastwood by pairing it with some ultra masculine accessories such as hobnail boots, raw denim and darker more masculine colours, (we also recommend a bit of stubble as an ally).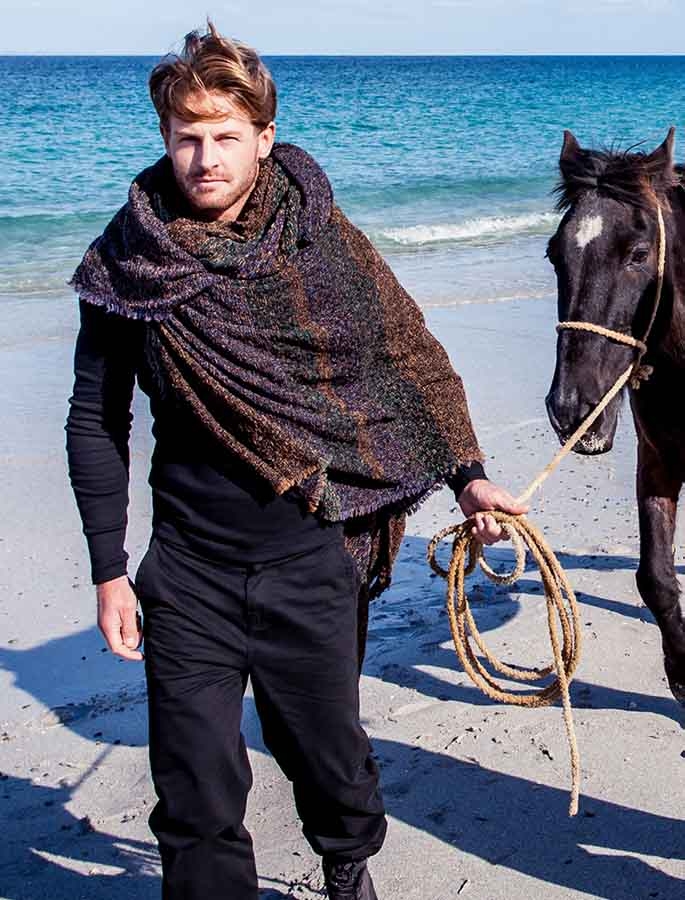 2. Wear it as a Statement PieceThe style itself can be considered quite unique. That's why we think its best to wear it as a statement piece by neutralising the other tones and garments around it to make it stand out. After all, if you are going out of your way to wear a catwalk trend, you may as well get noticed for it!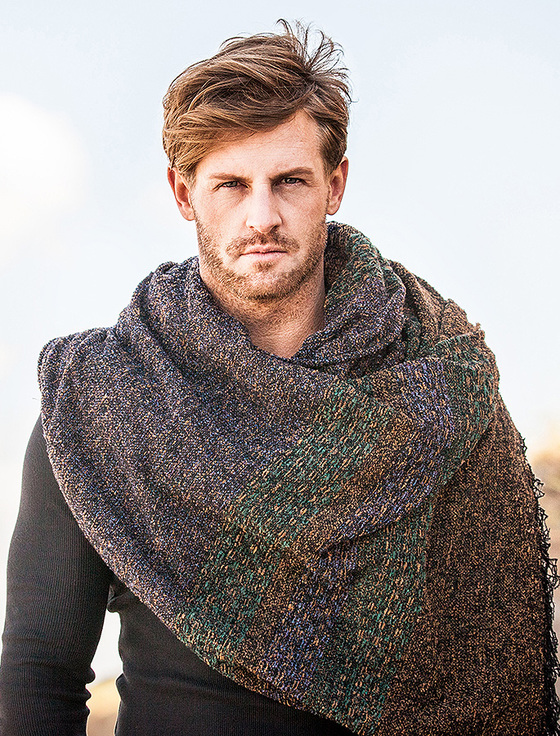 3. Make it Your Own
As with every garment you wear, make sure to make it your own. With so many styles and colours out there, make sure you choose one that compliments your own unique and individual look and wear it with confidence, the key to complementing any trend.
So a fashion fad or fashion staple???? We think we know the answer but the question is still open for debate so let us know what you think and whether you'll be wearing one this season?