The Ohio Rose wows in Couture Aran Sweater ahead of Rose of Tralee Festival
Posted by Aran Sweater Market on 12th Aug 2016
We were delighted to welcome the Ohio Rose, Kathleen Rose O'Donnell - as she is suitably named - to the Aran Sweater Market this week, after making the long trip from Ohio to take part in the Rose of Tralee Festival. The Annual Festival which takes place on the 22nd of August, is one of Ireland's largest and longest running festivals, now celebrating almost 57 years.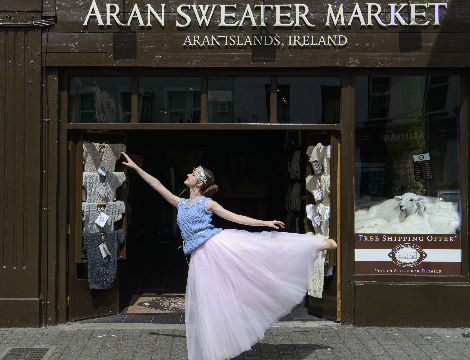 The heart of the festival is the selection of the Rose of Tralee, which brings young women of Irish descent - like Kathleen - from around the world to County Kerry, for a global celebration of Irish Culture. The week-long event also includes street entertainment, carnival, live concerts, theatre, circus, markets, funfair, fireworks and Rose Parades. We are huge fans of initiatives that help to connect people with their Irish Heritage so the Rose Festival has always been very close to our hearts.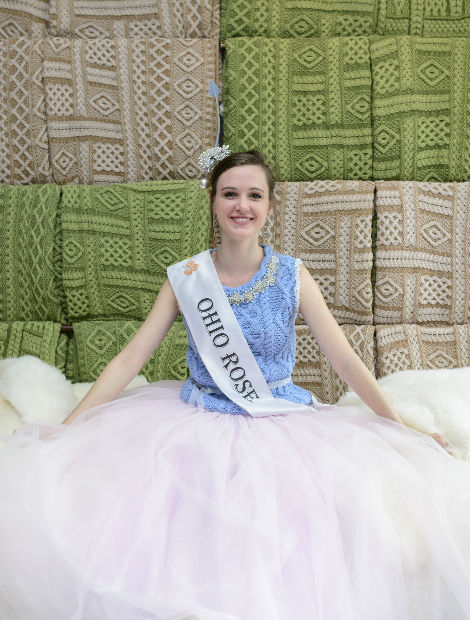 Kathleen wears a couture Aran Sweater as part of an evening outfit designed for the upcoming festival. The beautiful Aran creation is the result of a recent collaboration with Irish Designer, Rebekah Wall, who has embellished the cable, honeycomb and diamond sweater with crystals and cubic zirconia.
We believe there is no end to how the Aran Sweater can be worn and we just adore how Kathleen has paired it with a pink tulle skirt and crystallised headpiece (also by Rebekah Wall) to show how Aran can also be worn for a very special occasion.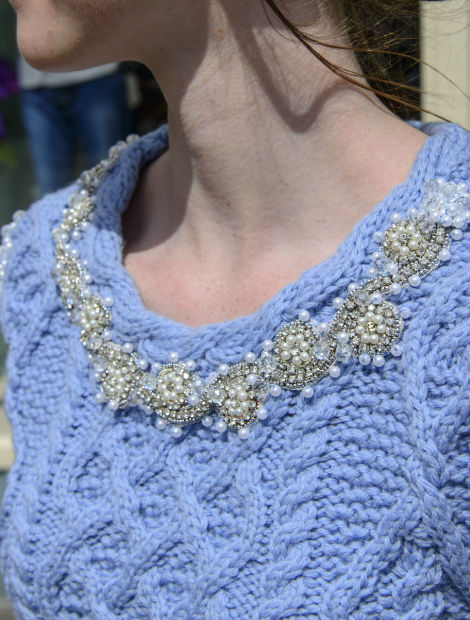 We were all very fond of the young Rose hopeful, a trained Ballet turned Hooper Dancer (popularly known as Rose The Hooper) whose passion for Ireland as well as dancing was simply infectious. She jokingly admitted that the very first thing she did on landing in the country was to take a trip to the beach where she ceremoniously dipped her toes in Irish soil.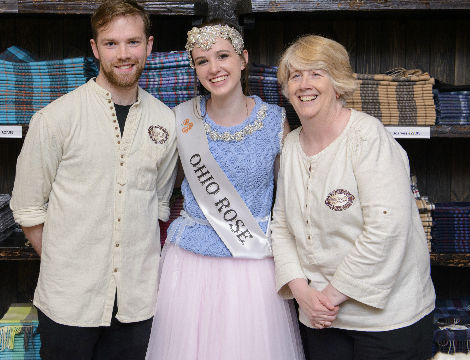 Kathleen was born and raised in Cincinnati, but has always been fascinated by her Irish Heritage so our Brand Manager, Laura gifted her with a genuine O'Donnell ClanAran Scarf as a memoir of her first trip home to our shores.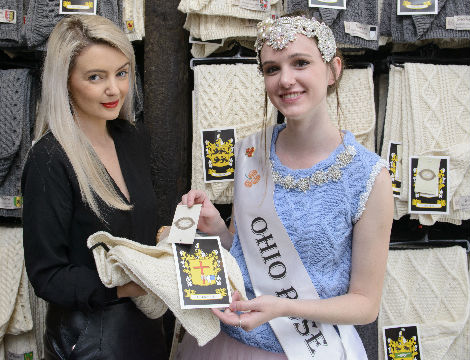 We would like to wish all the Roses the very best of luck for the upcoming contest, especially this little lady- go get em Ohio!