St. Patrick's Day With Aran 2023
Posted by Aran Sweater Market on 8th Mar 2023

May the love of St. Patrick,
find a place in your heart,
A love of a country
a land set apart,
A love of a people,
so proud and so true,
and lastly the love,
that I feel now for you
As our national holiday St. Patrick's Day approaches on March 17th, the day commemorates Saint Patrick and the arrival of Christianity in Ireland.
We wanted to highlight the importance of the day to us & how wearing your Aran knitwear is connecting you to the heritage and belonging, existing within our craft of Aran.
On St. Patrick's Day, the celebration of all things Irish, the demand for Aran knitwear reaches its peak. People everywhere don their green Aran sweaters, showcasing their love and appreciation for Irish culture. The sweaters serve as a reminder of the rich heritage of the country and the proud people who call it home. Most likely it's the secure connection of wearing something that is Irish that brings people (as well as Aran knitwear is held in the highest regard within international fashion houses and rightly so!) in knowing that they're wearing a garment with real meaning. The Aran sweater is a badge of pride, a symbol of history and will always be a huge part of our culture.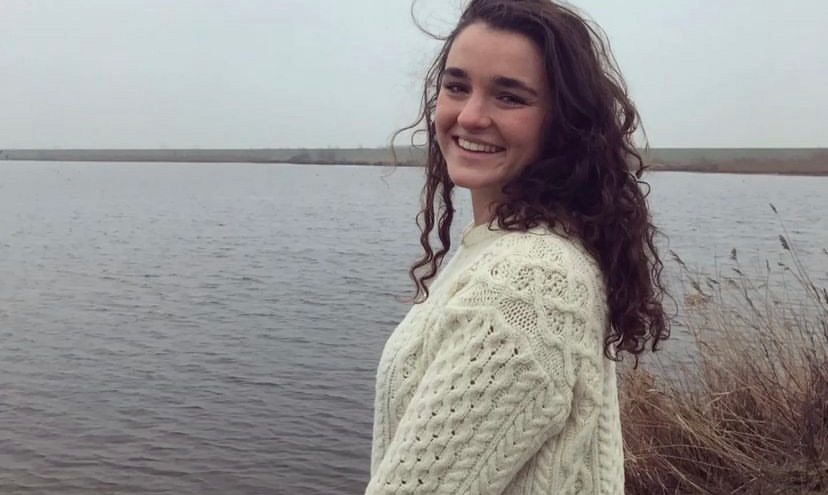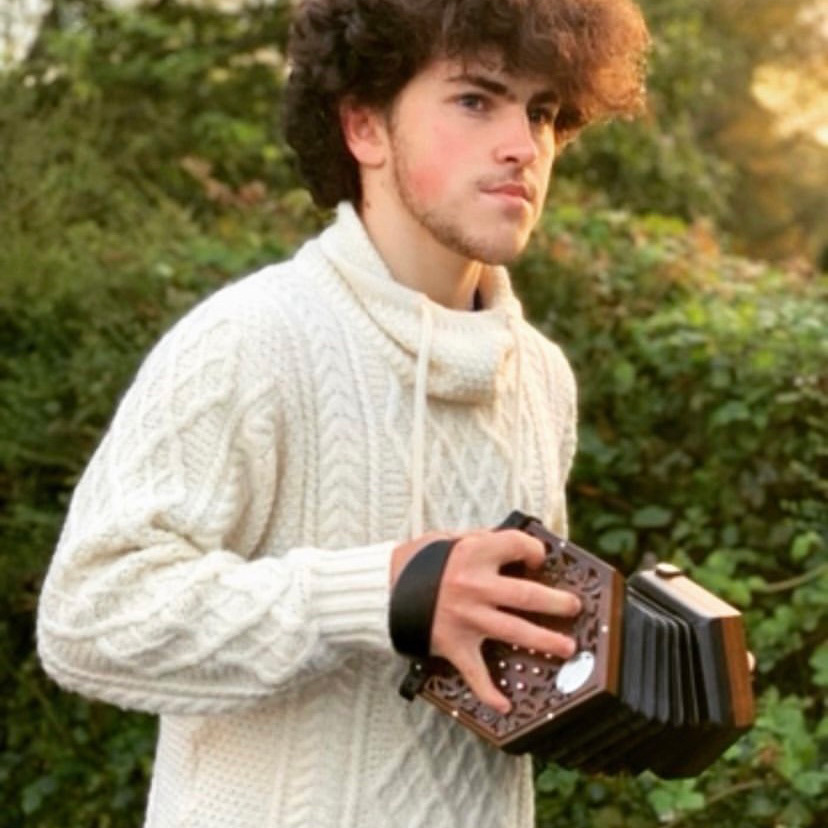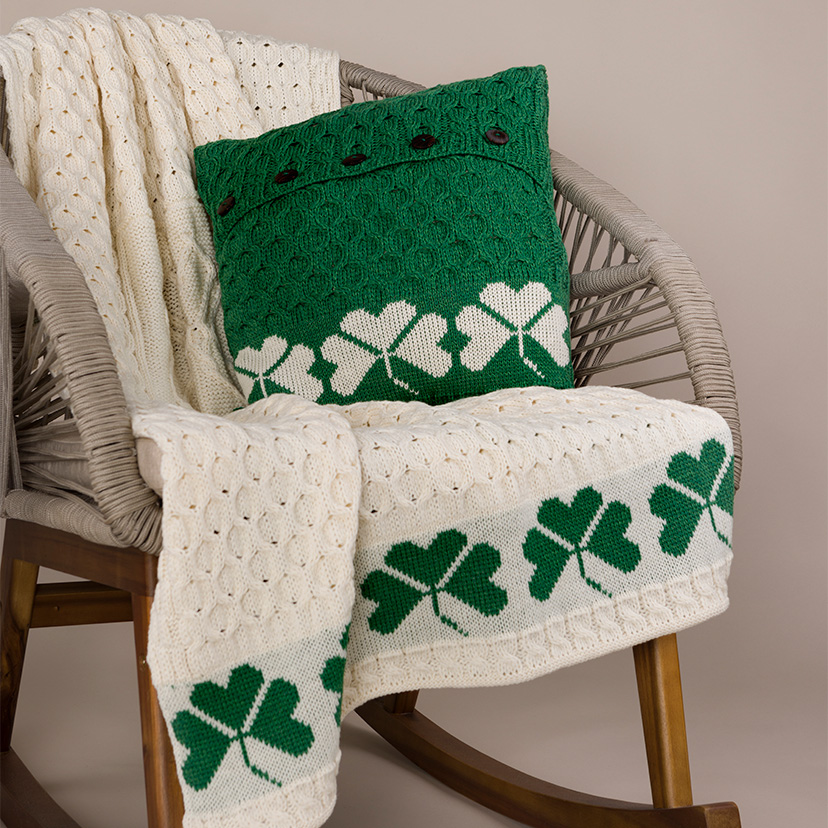 Shop & Save in our St. Patrick's Day store and be ready for the "Day of the Irish"
The Aran Islands, located off the western coast of Ireland, are the birthplace of our iconic knitwear – where it all began. The rugged landscapes and harsh weather conditions of the islands inspired the original Aran sweaters, which were created to provide warmth and protection against the elements. The delicate cable and diamond patterns that adorn the sweaters have a deep cultural significance, with each stitch telling a story about the wearer's family and community. The Clan sweater is enormously popular within the Irish heritage as each clan pattern is unique to the name. St Patrick's Day is the perfect way to proudly show off your family name & connect back to your roots.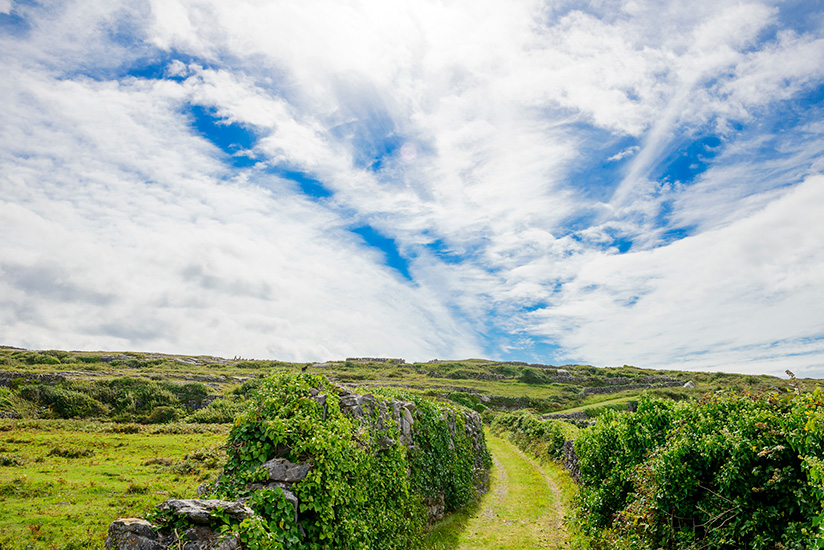 The Irish Clan Aran Sweater is now synonymous with the event. They are an undoubtable wardrobe staple piece around the globe on St. Patrick's Day – they hold years of history and represent where we have come from, who we are and what we are about and indeed what this day is celebrated for. Clan Sweaters are custom, handknit Aran sweaters crafted of patterns and stitches that have been created in honour of Irish family names by gifted hands. The symbolism of the stitches in these Clan Aran sweaters pay homage to the legacy of the clan's name and having been adopted by hundreds of Irish clans down through the years, the wearing of your Clan Aran is a significant statement of pride in your own unique Irish family heritage. Sweaters, scarves, ponchos, history displays, rings & pins are all available in store & online – we have everything you need to stay cozy and connected for the big day.

Our amazing customers have shared with us the importance of their clan to their family and wear their Clan Sweater all around the world with great pride on this special day. We have had feedback from our knitting customers that have used our knitting kits and patterns to create their very own Clan Aran Sweater. The feeling of doing the craft gives a wonderful sense of connection to history. Have you found your family's Clan Aran?
| | |
| --- | --- |
| | |
| | |
| --- | --- |
| | |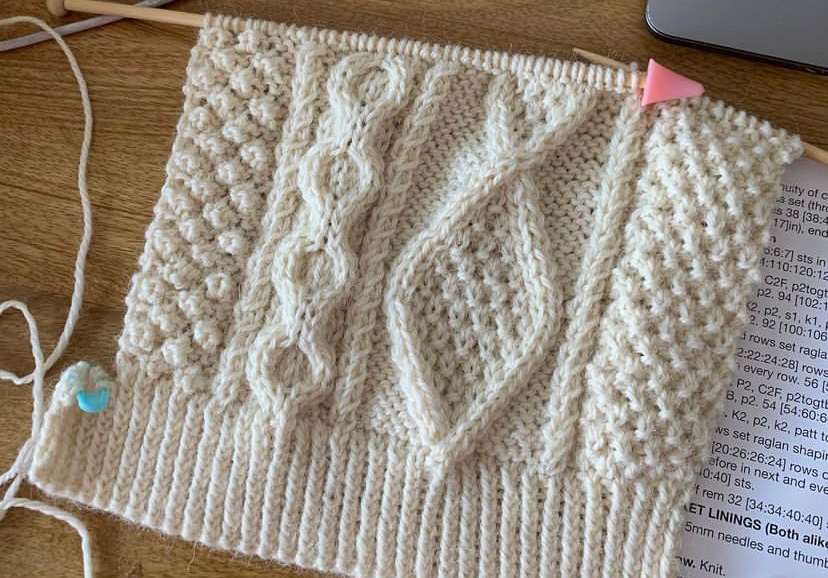 The excitement is building across schools, homes and communities here in Ireland as we prepare for the big celebration of our home. Getting ready for the Parade that morning, watching all the adults and children in the community beaming with pride to walk along with friends and family putting on amazing displays for everyone to enjoy. The atmosphere here in Ireland for this day is always electric. We are lucky enough (maybe it's the Irishness) to have wonderful customers who share their photos with us. It's lovely for us to see people connect to Ireland through Aran.
---
Head over to our social media platforms to be in with a chance to win one of these amazing Authentic Irish Aran. Our lucky winner will be announced on Friday the 10th of March and have their new sweater in time for St. Patrick's Day, after all nothing says Irish like Aran this competition is open internationally.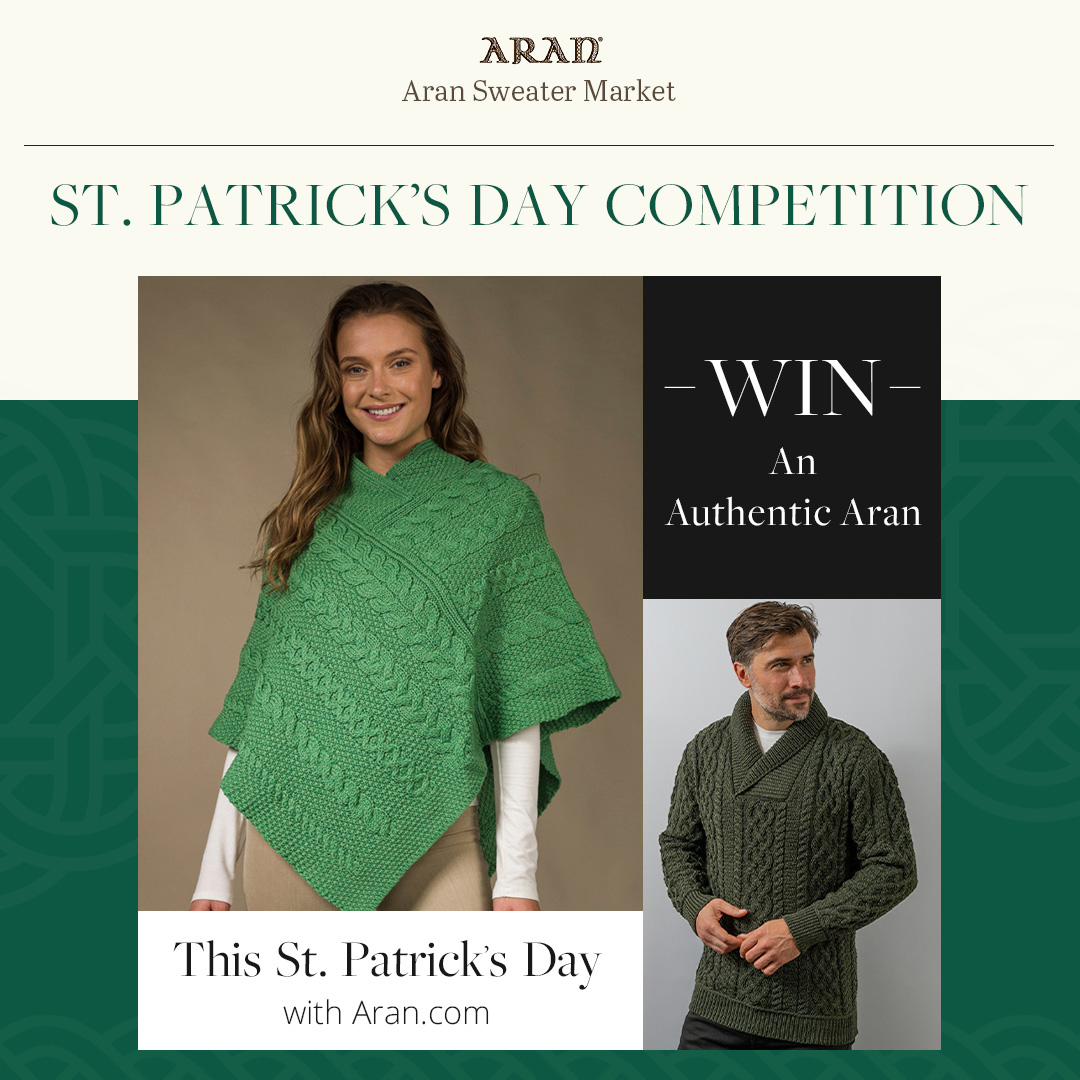 Go n-eirí an t-ádh leat (May luck rise with you)
---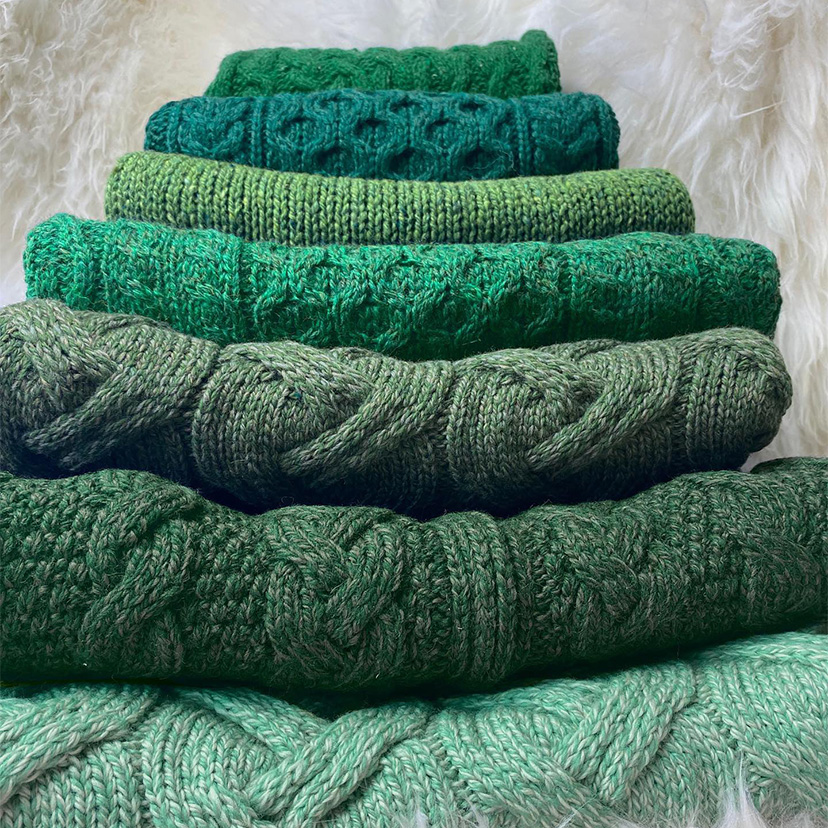 Last year we highlighted how the gorgeous rich Greens of Ireland inspire our craft drawing inspiration from the Irish landscape, the hues of green in our knitwear are representative of our unspoilt environment - the peaks of our rich green mountain ranges, the natural green of our shoreline's seaweed, the fields of fresh green grass, the Atlantic Ocean's swirl of deep marine green, the moist green moss that clings to our hand-built stone-walls. The color is forever embedded within our landscape, our unique culture & our symbolic heritage. It is of us & We Are Aran.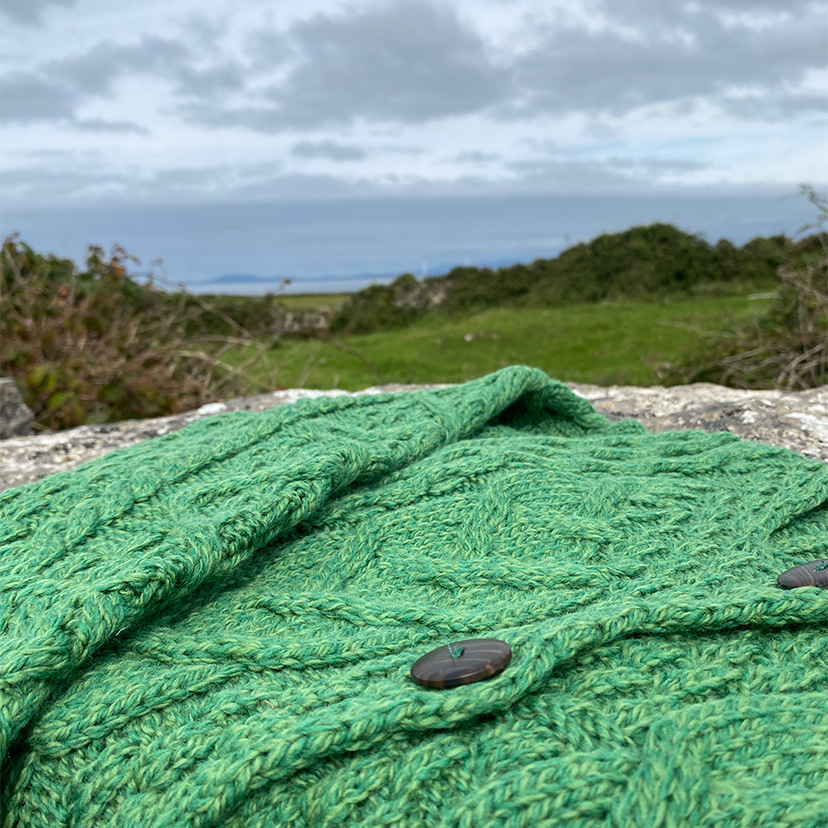 So, you can see how Aran knitwear is more than just a fashion statement and holds so much more meaning. It represents the spirit of Ireland and its people, and on St. Patrick's Day, it becomes a symbol of pride and joy for all those who celebrate the holiday. Whether you're Irish or not, wearing an Aran sweater is a way to connect with the rich history and traditions of the country and celebrate its unique cultural heritage.
Nothing says Irish like Aran.
Lá Fhéile Pádraig sona duit!
Happy St. Patrick's Day to you and yours.
Slan...