Mother's Day Gifts 2023
Posted by Aran Sweater Market on 11th May 2023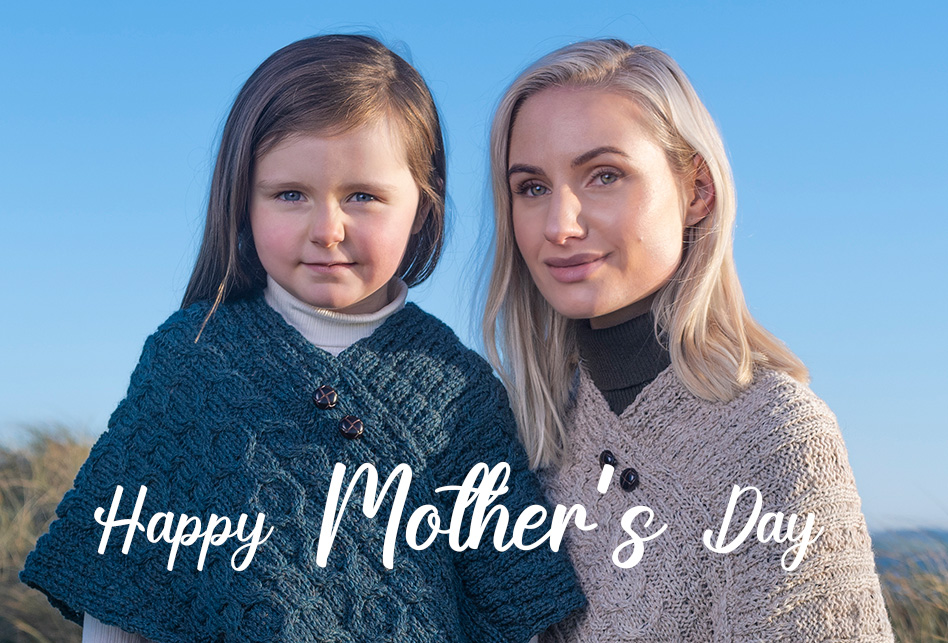 Fáilte mhór roimh ár mblag nua, which means you are very welcome here to our new blog. Today we are talking about our precious Mothers – where would we be without them. We are very proud of all the things our mammies do for us and continue to do for us when we no longer need them to.
At Aran.com we have carefully selected the following gifts for mom this year. We know what matters to a mother's heart, as it has the very values we hold in our Authentic Aran Knitwear. Strength, resilience, comforting, generous & incredibly valuable to everyone who is lucky enough to have one. A mother's love is like no other, there is no better way to show your appreciation this year than a classic piece of traditional Irish Aran Knitwear. Gift her warmth and hugging comfort as she gives you unconditionally, even when you're far from home.
**** A Mother is she who can take the place of all others but whose place no one else can take ****
Sentimental gifts for mothers day 2023 hand-picked by our expertise and knowledgeable staff - we have carefully selected the best quality, classic, trendy yet affordable & sustainable authentic Aran knitwear that is sure to add to the quality of memories you make together. From matching wool accessories, to quality Aran Clan ponchos, Clan History displays, sentimental Celtic Jewelry and array of diverse Authentic knitwear & stunning colors to choose with guaranteed dispatch within 12 hours you have everything you need right here at a click of a button. The ultimate guide is here for you to choose the perfect gift for your mom this year, hassle free.
Mix & Match with stunning accessories for the moms who are fashionista by heart – these warm, soft accessories are the ideal gift for the mom who enjoys styling outfits as they hold the ability to change and amplify an outfit from casual to glamorous. Whether it's a classic Aran tote bag & matching Merino wool purse. A super soft infinity scarf & matching mittens or a stunning Merino buttoned Headband with a matching loop scarf - these accessories will give your mom the extra comfort she undoubtedly deserves.
---
Give her the gift of connection to her Irish heritage this mothers day with our Clan Aran range of Clan Ponchos, History Displays, Sweaters, Scarves, with over 300 Clans to choose from - Stitches and patterns were handed down through generations & are very sentimental to those of Irish heritage.
Our unique ClanAran Range includes a hand-knit sweater, which is handcrafted with the traditional báinín wool, a carefully crafted clan scarf & clan poncho, specially knit clan throw, clan bed runner & clan baby blanket, hand-crafted clan history display and clan knitting kit. All these items make great Mother's day gifts and symbolic mementos which connect her to her heritage & will be cherished by her.
Next we have some ideal gifts for the bookworms & home birds out there - if your mother loves to indulge herself in a good book whether it's on the sofa for a rainy day or sitting outside with some birds chirping while she unwinds, we have the perfect gift for her.
For extra comfort on those relaxing days we recommend our Aran Wool Cuffed Cable Leggings
Stretchy, comfortable & warming
The next ultimate yet affordable gift is for the nature/outdoor enthusiast - between hiking & exploring the great outdoors to getting stuck into some gardening or outdoor house work we have the ultimate gift here for her - brighten her days outdoors with a splash of playful color mixed with unbeatable quality wool caps, hats & headbands - your sure to find her perfect match with a wide range of styles to choose from.
Here at the Aran Sweater Market, we offer a stunning selection of 100% wool sweaters, cardigans, coats, ponchos, capes and much more in every colour and style imaginable so you are sure to find the perfect style here to spoil your mom this mother's day - our live chat service available on the website is available to help you find the perfect size or style if you are unsure, our knowledgeable staff are more than happy to assist you find the perfect match.
To finish off our gift guide for Mother's day & help you with some last minute gift ideas we would recommend our Celtic Jewellery Range - from meaningful pieces to stunning ancient designs & exceptional craftsmanship. These sought after pieces are not only eye-catchingly beautiful to look at but such a deep sentimental variety of styles are held within them - making them the perfect gift for mom this year.
If you are on the search for a last minute gift & would like to give your mother something on the day then we have online gift certificates available to purchase & can be used straight away so she can spend her mother's day shopping on Aran.com - problem solved.
We hope this blog has given you some ideas and inspiration on how your gift to your Mom can be meaningful, affordable, sustainable and thoughtful - even when you are away from home. No matter where in the world you are, whether you celebrate together or from afar, we hope you get to make some more special memories with your mom this Mother's Day.
Happy Mother's Day from the Aran Sweater Market
Slán go fóill...