Father's Day 2023 - The Ultimate Father's Day Gift Guide
Posted by Aran Sweater Market on 9th Jun 2023
Father's Day this year falls on Sunday, June 18 th 2023, the perfect day to admire all the dads in your life – Treat him to an authentic gift this year with plenty of inspiration from our new blog for gift ideas for dad. From smart and timeless to comfort and stylish pieces and everything in between - with a free express international shipping offer you have everything you need here on Aran.com with a click of a button. You can request discreet packaging at checkout for a surprise & your dad will receive a $20 voucher to use in his next order with us – the perfect solution with an added bonus!
To make this gift guide easy to follow & take the pressure of thinking of a great gift – we will dive right in & show you how you can really make dad smile this year!

For the dads who like the extra comfort without compromising on style– we all know how most dads are not the biggest shopping enthusiast. So, it's a rare occasion they treat themselves to a nice new sweater which means Father's Day is the perfect way to pick out an authentic Aran Sweater that may be their new go-to piece & a revamp for his wardrobe.
An Authentic Aran sweater is always a great idea, timeless, fashionable, sustainable & practical. Tick all the boxes to spoil your dad this year – with a huge range of colors & styles to choose from you're sure to find the perfect match for him! The Sweater we have hand-picked for dad in 2023 is our Shawl Collar Sweater – One Button Fisherman Sweater. An all-round multi-tasker, this style looks great whether worn smart or casually which makes it a practical yet stylish gift. The Shawl Collar adds a sense of depth which in turn adds an extra dimension to simple outfits.
Shop all Aran Sweaters for him
The next gift is our Aran Jackets – if your dad is often embracing the outdoors for work or just maintaining the house & garden is his thing then one of our Aran jackets is the ultimate gift for him – This mid-weight cardigan features traditional Cable and Diamond stitches, said to represent the Fishermen's ropes and fishing meshes, bringing luck, wealth and success to the wearer. A great design combining Style and Tradition in the most sophisticated way. Available in five colors.
Shop range of Aran Jackets & Coats
Next on our 2023 Father's Day gift guide is for the sophisticated gentleman – a handsome combination of grandfather shirts, waistcoats & jackets all available here on Aran.com.
Whether he is suited for work or likes to keep his style in check these high-quality pieces will serve him for many years to come.
Combined to create the ultimate outfit for Dad, that will lend a classy look and take the whole vibe up a notch, thanks to you.
Accessories add to the look – gone are those days when accessories were considered only fashionable for women. With high quality Irish made authentic men's accessories available here all in the one place, you will show dad how he can finish off any outfit & enhance his style – he will thank you for it!
Woven to perfection those stunning accessories finish off any formal outfit & serve the ultimate stylish finish – mix & match our vast range of colors & styles to suit everyone.
Lastly, we have Celtic Jewelry, these three pieces are very fitting if you want to express your appreciation with some sentiment - Original Steel Engraved Celtic Knot Ring is a classic and timeless piece, this heavy sterling silver Men's necklace features the Celtic knot design with oxidised silver to give a blackened effect. Celtic culture is interwoven with stories, and the Celtic Knot tells a tale of enduring love. It reflects the convergence of mind, body and spirit for something a lot more sentimental or Rhodium Plated Trinity Cufflinks Inspired by intricate Celtic Trinity Knot & provide a genuine connection to the beliefs and traditions of Ancient Ireland. If your dad has Irish connections, then this is the perfect gift for him this year.
Shop all Celtic Jewelry for him
If you are looking for a last minute gift for your Dad this year then spoil him with an online Gift Certificate for the Aran Sweater Market - giving him the gift of choice with many Authentic Irish made gifts to choose from, he will be sure to feel the love with this one!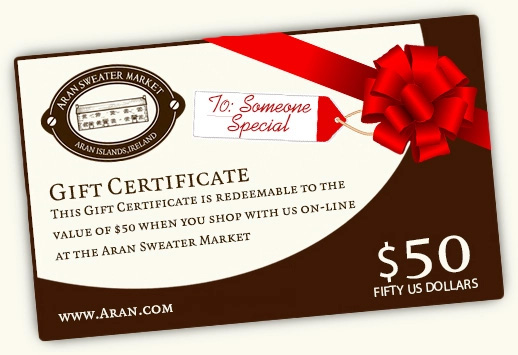 From luxurious crafted must-haves to quality woven staples, we have hand-picked a range of our favourite handcrafted knits & Irish accessories for you to choose from to show your love to Dad this year and take away the stress of choosing a meaningful gift & that is all for our Father's Day gift guide this year - we hope you found this blog helpful & you have a wonderful Father's Day 2023 making new memories to last a lifetime!
Slán Go Fóill!….