Christmas Gift Ideas for Her
Posted by anonymous on 18th Nov 2016
We have a wide variety of aran sweaters and accessories for her this festive season but wanted to remind you of some of our absolute favourites to help you make those all important gift decisions.
Patchwork Aran Cardigan
This patchwork Aran Cardigan is one of our most popular styles of cardigans and features a variation of the cable, diamond and chevron stitches.This beautiful cardigan has been a best seller for years and it's easy to see why, with its versatile style. It's also available in kiwi green, festive red, nautral white, violet purple, grey, charcoal, beige, denim, blue marl and misty marl, so you are guaranteed to find her favourite colour in there somewhere!
Aran Bobble Hat
The Aran Bobble Hat is one of our favourite stocking fillers and with pom poms making fashion headlines in recent weeks, it's a guaranteed trendsetter this Winter. Available in purple, green and beige and for just $29.95, it's a super stylish and practical gift that won't break the bank.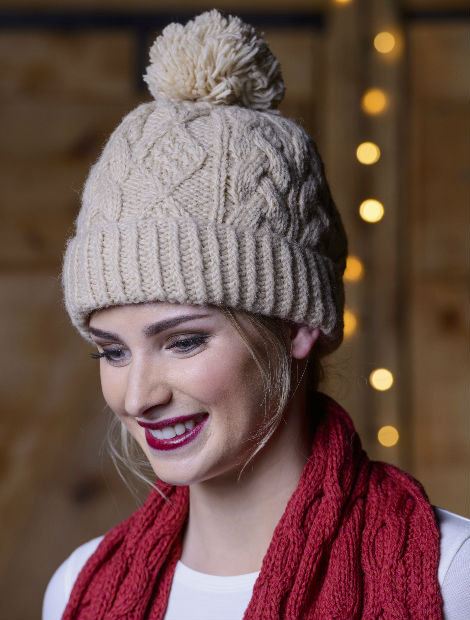 The Lambay Sweater
Our Lambay Aran Sweater is also a great choice for her this Christmas. This sweater is a fantastic option for someone that likes the aran look but prefers the more contemporary style of sweater, as its overall look is fitted and feminine with a scallop neck design. It also comes in a range of very attractive colours including red, navy, grey, blue, purple,white and beige.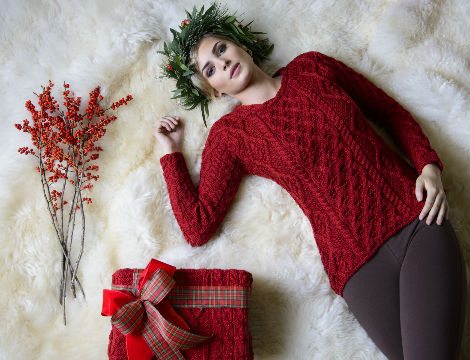 The Aran Hand-knit Cardigan
Our hand-knit is perfect for someone who just really values the old traditional Aran sweater or cardigan. It's super soft and made from the very best quality of soft merino wool and also features the old style leather-look buttons. This is a great choice for someone who likes really cosy sweaters and appreciates premium quality.
Our Vogue Aran Cable Cardigan
Our Aran Cable Cardigan has seen a huge revival in recent months after gracing the pages of British Vogue this Autumn. It features the popular cable design and would be perfect for a fashion lover who appreciates timeless style. It also comes in a kaleidoscope of colours to suit all tastes.We recommend styling with a satin dress in a bright colour for that perfect Christmas party look.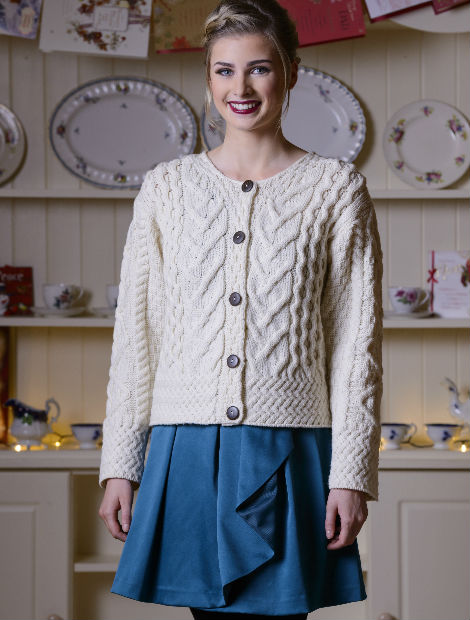 Roll Neck Fisherman's Sweater
This traditional style Rollneck Fisherman's Sweater is reminiscent of recent catwalk trends including Victoria Beckham. We recommend in a size up from your regular fit for an oversized look that will keep your loved one warm, toasty and on trend all Winter long.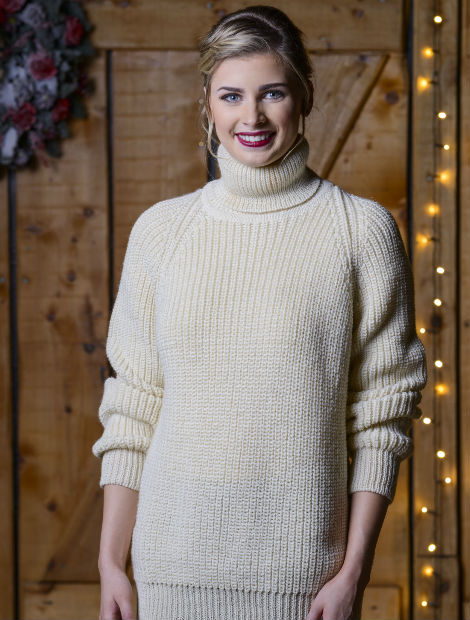 Wool Booties
Last but not least our cosy wool booties are sure to make a great gift this festive season and are the perfect companion for her to snuggle up on the sofa with a warm drink this Winter.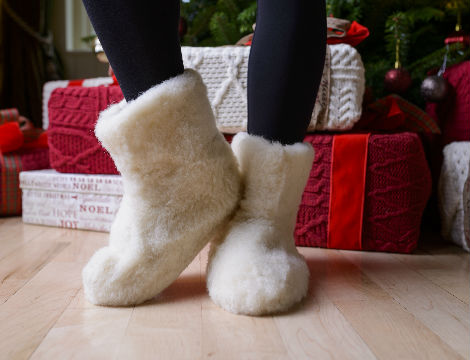 We hope we've given you lots of inspiration for Christmas Gifts this year and with some great discounts in our Christmas Shop, now there is no excuse but to get all your shopping right here!
Until next time,
Sláinte,
The Aran Sweater Market