Aran & Tweed - Meet Your Perfect Match!
Posted by Aran Sweater Market on 31st Jan 2019
Tweed and Aran have always been a match made in heaven and for decades the authentic pair have dominated the fashion world, both on and off the runway.
Here at the Aran Sweater Market, we adore the combination of the two styles together to create a look that is as classic as it is chic and have just recently added some of our much loved Tweed Hats to our January Sale so that you too can avail of our favourite combo. Here we match up our Tweed styles with some of our seasonal Aran Sweaters along with a few fun facts about the popular woven material.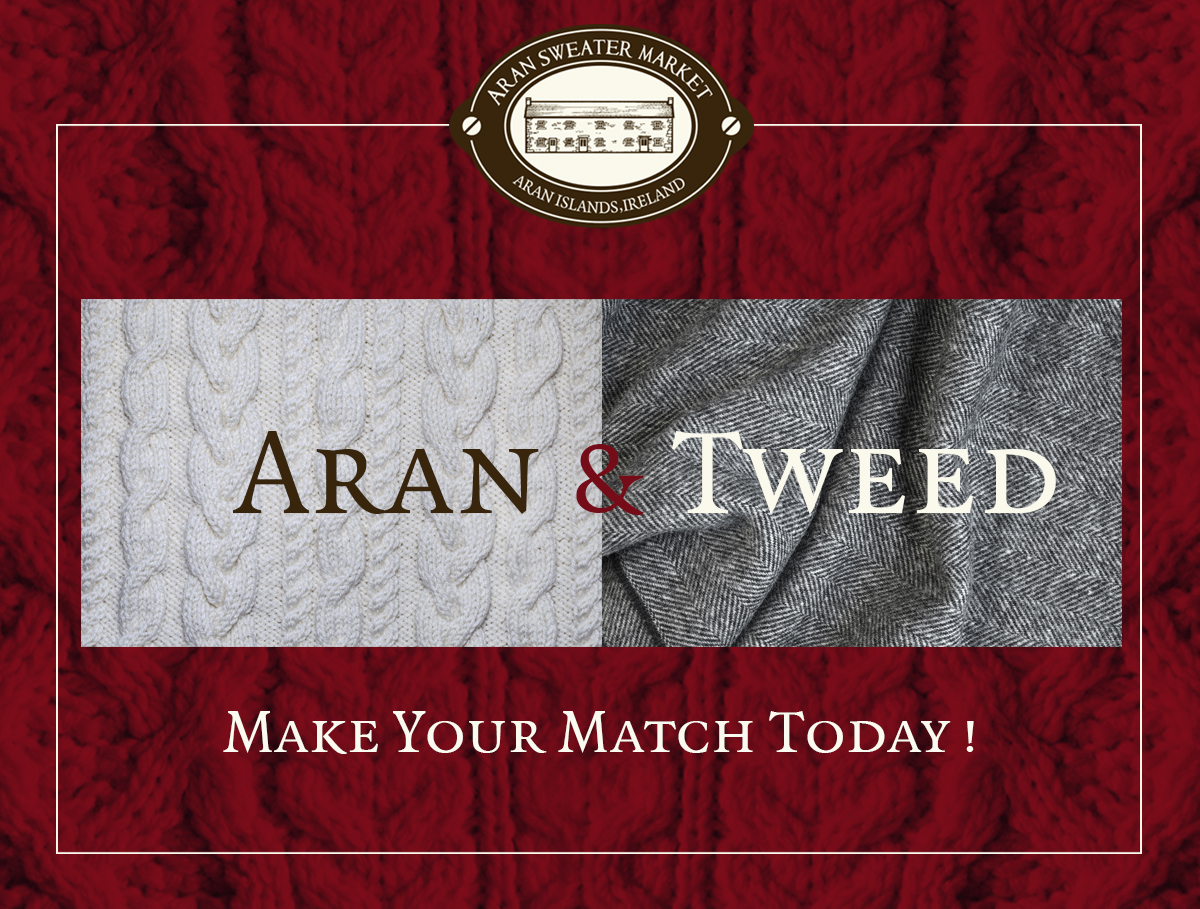 Our Newsboy Hats are crafted by our partners Muckross Weavers whose workshop lies in the heart of the picturesque Killarney National Park in the South West of Ireland. Indeed many of the colours and shades used are inspired by the beautiful scenery and lakes which surround the parkland outside the weavers workshop. We adore the mix of vibrant greens and blues of this particular plaid style and think it would look fantastic paired with our Double Breasted Aran Coat in navy or our Honeycomb Button up Cardigan in blue, don't you?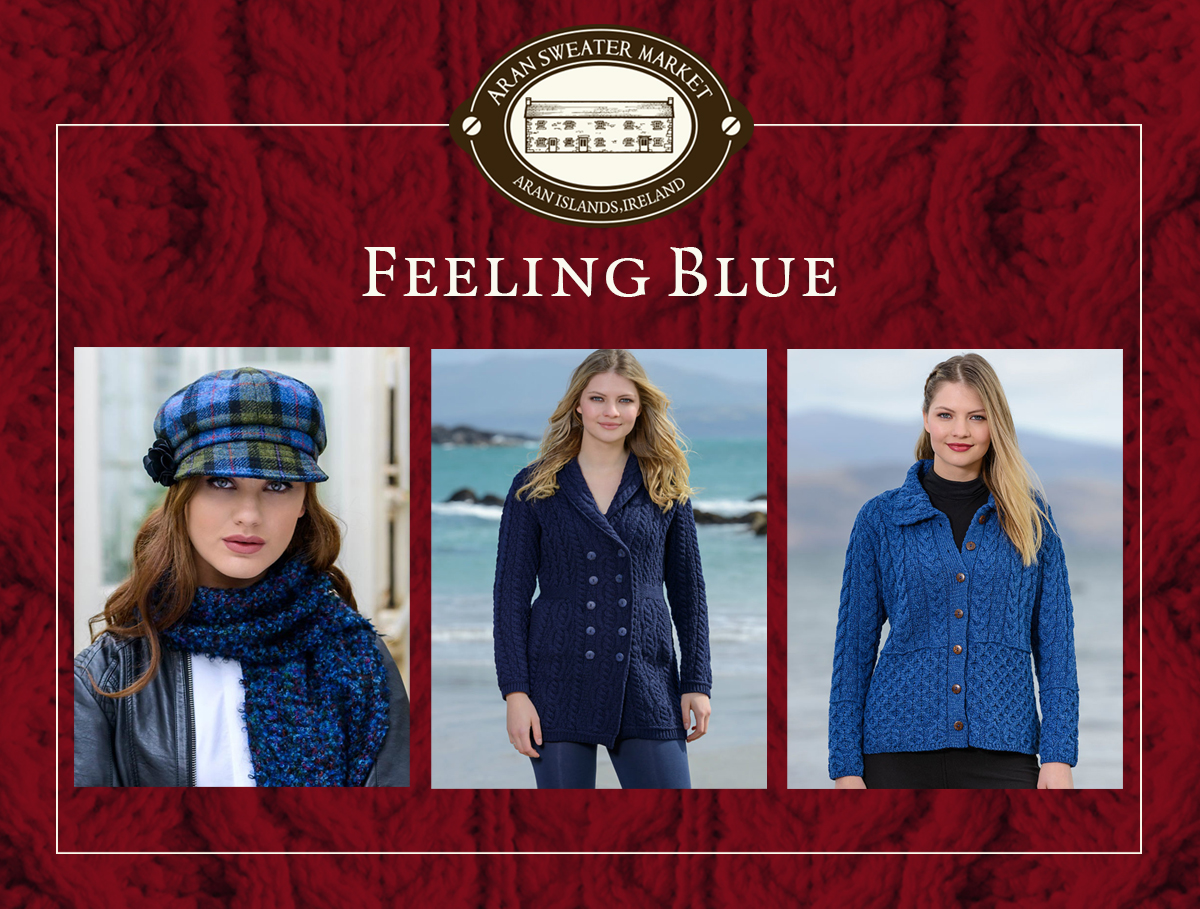 Much like our beloved Aran, Tweed is made to withstand harsh climates and weather conditions like wind, rain and snow making it the perfect choice to keep you warm and cosy all Winter long. It's no wonder that Tweed was originally worn by explorers and mountaineers before later being adopted by the English gentry as hunting wear.
In 1924, Fashion Designer Coco Chanel began borrowing Tweed hunting garments from the Duke of Westminster, a decision which was to later inspire her iconic Tweed suits, thus beginning the emergence of Tweed into the world of fashion and a love affair which was to last a lifetime.
We recommend an original grey Tweed for a truly classic look that will never go out of style or fault with fashion's favour. Try our Charcoal Plaid Newsboy Hat with our Trellis Aran Sweater or our Aran V-Neck Waistcoat for an essence of country chic.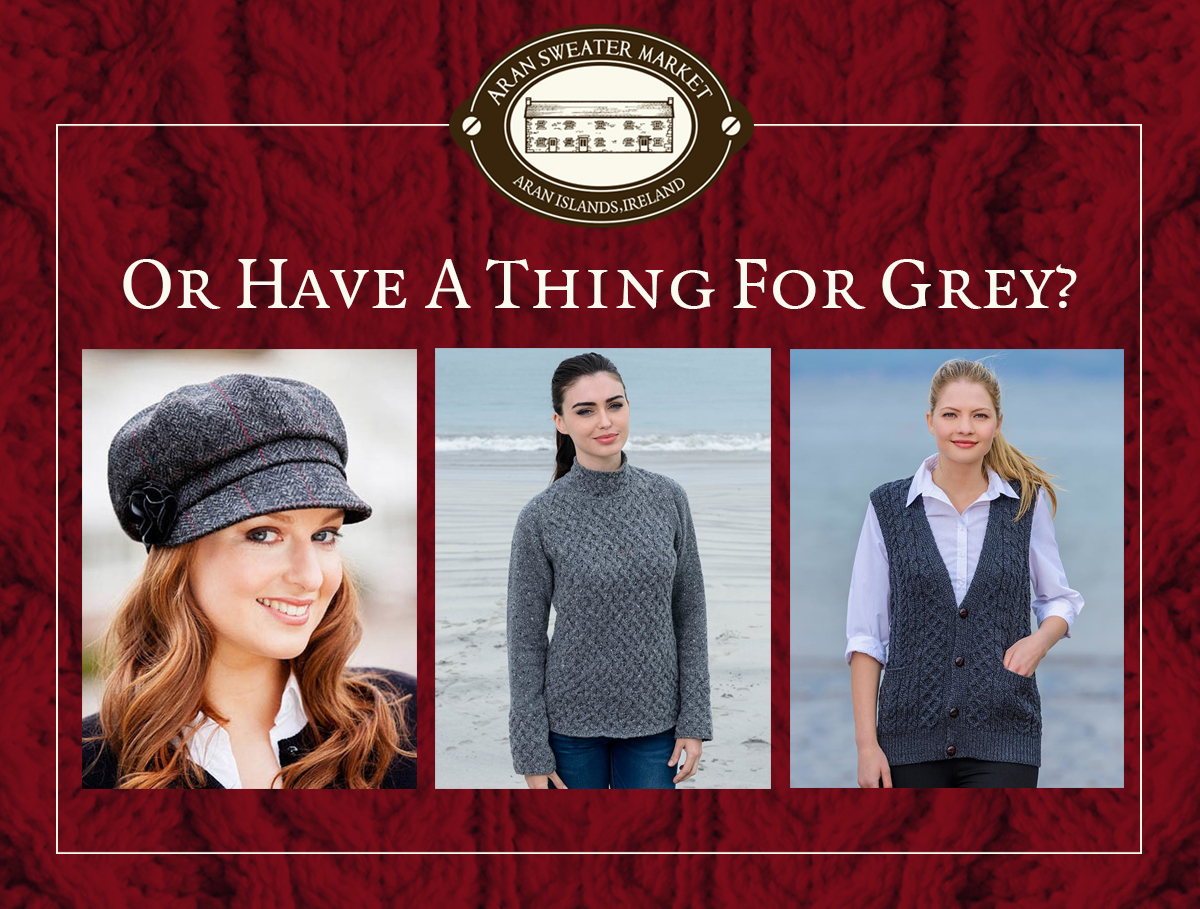 Typically considered more of a rough woollen material, over the years Tweed has become much more of an accessible and feminine fabric with the introduction of softer shades to keep up with contemporary tastes. We adore this mix of heather and green inspired by the beautiful Irish countryside. Although the Irish adopted the method of spinning Tweed, first in Donegal, the textile itself originated in Scotland. In fact, the name Tweed came about completely by accident when one day an English merchant mistook the original name of Tweel for Tweed on a package, thinking it was named after the popular Scottish River - you learn something new everyday!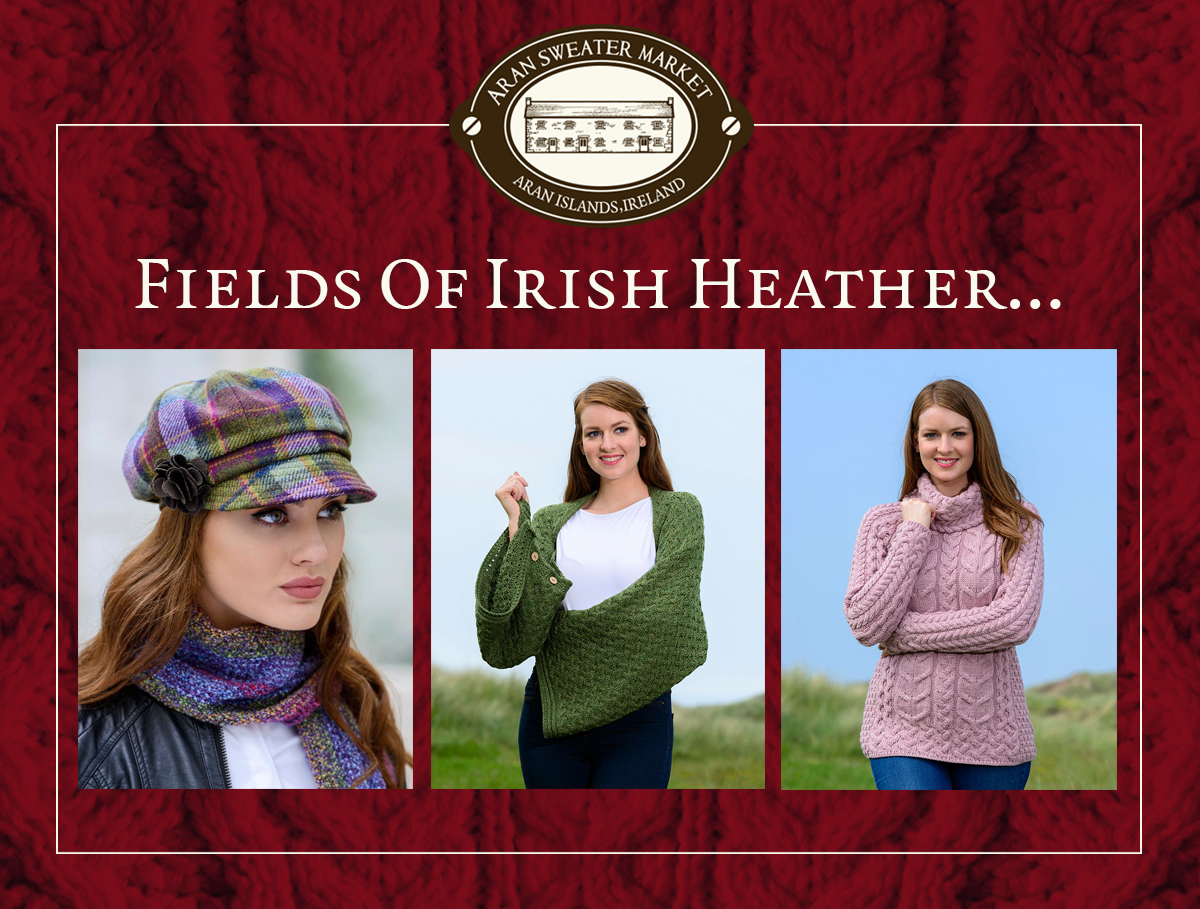 While Tweed is typically woven with a plain, twill or herringbone structure, every Tweed is unique due to the mix of yarns which are dyed before being spun, allowing the weaver to blend many shades together into the cloth.
We sure do love these stunning shades of purple created by the Muckross Master Weavers! Try this purple plaid beauty with our Double Collar Merino Aran Cardigan or accessorise with our Super Soft Aran Snood in raspberry red and get noticed for all the right reasons this season!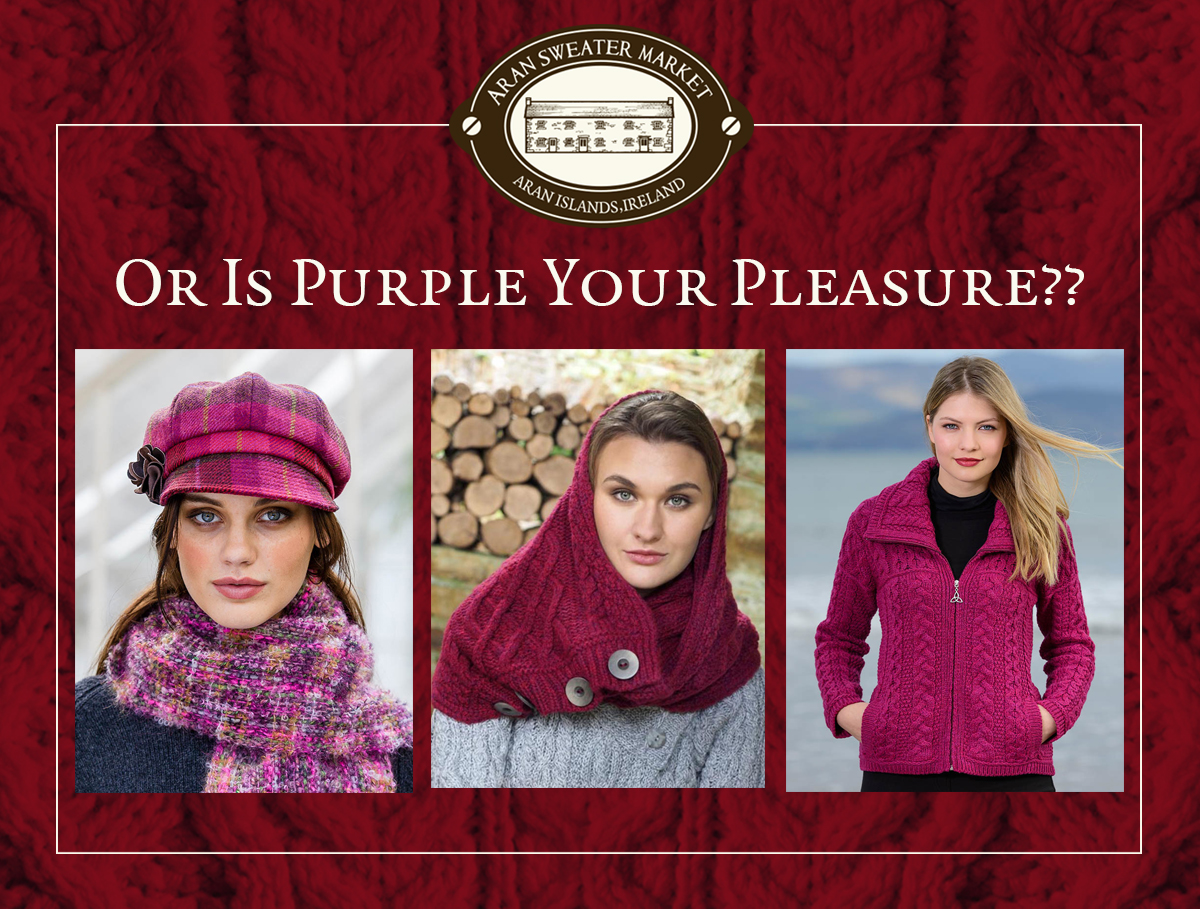 Having a piece of Tweed is truly a special investment piece as it is created by the coming together of so many different people and skills including farmers, wool dyers, blenders, carders, yarn spinners, wrappers, cloth finishers and many more. Have we persuaded you to make Tweed part of your Winter wardrobe yet? If so we hope you find your perfect match over on our January Sale........ ready, steady, shop!