November's Winner for #StyleMyAran
Posted by Aran Sweater Market on 1st Dec 2014
We launched our #StyleMyAran competition on the 1st of November to see how our followers were styling their Aran Sweaters and more importantly to get people sharing their own tips, hints and inspiration on how to style the traditional garment. Since then, we've been overjoyed with all your wonderful entries and completely bowled over by the genuine passion and appreciation for our humble little Sweater. We would like to thank all our followers for taking the time to enter the competition, but of course as we all know, there can only be one Winner........
The Winning Entry
Whilst we received so many beautiful and expressive entries, the minute we received Sarah Bogart's image on Titter, we knew we had a front runner.
The moment captures Sarah and her housemates taking a Christmas photograph together in a selection of their favourite Aran Sweaters. We adore the the way in which the photograph captures not only their enthusiasm for Aran, but a sense of their strong friendship and spirit of togetherness - which after all is what Christmas is really all about.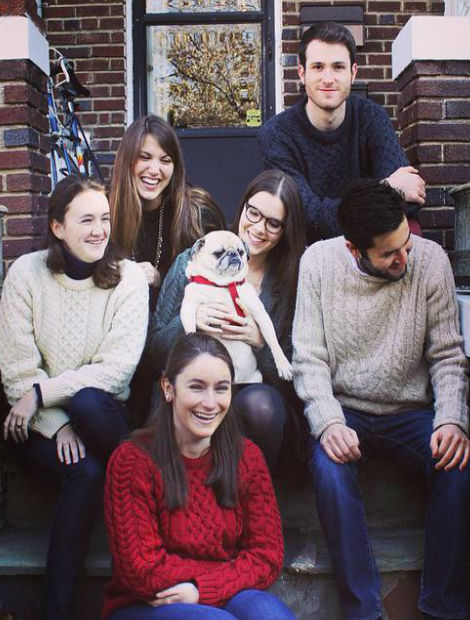 About the #StyleMyAran Winner
Here's a little more about Sarah and the story behind the picture:
Sarah (front left) is an archaeologist from Washington D.C, where she lives with Taylor (middle holding the pug), Paul (far back right), Tricia (in red), Tony and Sydney. Sarah is of Irish decent and further developed her passion for the Irish way of life and her love of Aran Sweaters during the time she spent studying her field in the beautiful Burren region of Co. Clare. Sarah visited the Aran Sweater Market Store back in 2011 and purchased many sweaters including the burnt red beauty sported by Tricia in the photograph. While Sarah, Tricia and Paul are all huge Aran Sweater fans and between them all have enough Aran Sweaters for the entire household, Sarah tells us that Tony and Sydney are still on the hunt for their very own Arans.
We would like to congratulate Sarah on her win of $300 to spend with us online and hope it will ensure all her house mates, including Tony & Sydney, have some new Aran styles just in time for Christmas!
Get Styling Your Aran for Christmas
We're opening the competition yet again and this time want to see how you're styling your Aran Sweater for the festive season ahead. Just post your photo on Facebook (by tagging us), Twitter or Instragam with #StyleMyAran to be in with a chance of winning another $300 voucher to spend with us online.
Think dark forest greens, sparkles, lace, red velvet, mulled wine & mince pies and just get styling !!!
Here's a quick reminder of all the Terms & Conditions:
Entry into the competition is acceptance of these Terms and Conditions.
This competition is open to residents in Europe, North America & Australia. You must be aged 18 or over to enter.
To enter the competition you must go to Twitter/Instagram or Facebook and upload your photo using the hash tag #StyleMyAran.
To be valid for entry you must use an Aran jumper which features the traditional Aran stitches. The specific jumper can be any colour, style or brand.
The competition will be priced in US$ or local currency equivalent of the winner.
The prize is non-exchangeable, non-transferable, and is not redeemable for cash or other prizes.
The completion will run from the 1st of December and close on midnight of the 31st of the same month. The winner will be announced on the first day of January on the AranSweater Market Blog as well as Twitter & Instagram and other social mediums.
To claim their prize, the winner must contact laura.macsweeny@aransweatermarket.com
The voucher will be vaild for 1 year from the date of issue.
The brand holds the right to retain and reuse all content supplied as part of the competition.