Meet our Little Christmas Superstars
Posted by Aran Sweater Market on 27th Nov 2014
We've had great fun this month organising our Christmas campaigns for the season ahead and took particular delight when it came to styling the little stars of our Kid's Christmas Collection. To set the perfect scene, we wanted to recreate Christmas morning with a vintage playground feel, so we packed up all our Aran gifts & toys and set off to the warmth and wonder of Ballyseedy Castle in Co. Kerry.
Here, we'll take you through some of our favourites looks from the day as well as introduce you to all our little Christmas superstars.
Adorable Maebh is two and a half and hails from Co. Cork. Here she wears a Baby Aran Cardigan with short sleeves from our Baby & Toddler Range. Made from 100% soft Merino Wool, this is the perfect sweater for over your little one's Christmas outfit. We've paired it with a tartan dress in red & navy for a traditional and festive look and what a combo it is.........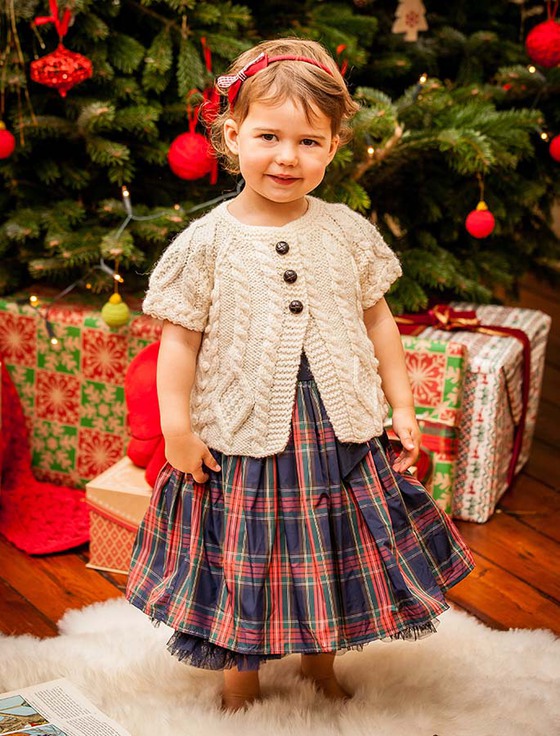 Our second style for this lovely buttercup was a Baby Button-Down Dress with colourful buttons in a Christmas Chillipepper colour. This little treasure, made from 100% Pure New Wool, also comes in Natural White, Kiwi and Wicker and is great for younger kids because of its easy accessible style. We've paired with a long sleeve white t-shirt, white tights and of course, Maebh's winning smile.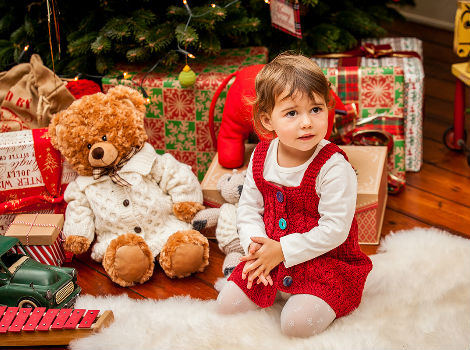 Next up was our five-year-old cheeky chappy Henry, whose lively lust for life and devilment managed to keep both us and the other kids entertained for the course of the day. Here he sports a traditional Aran Sweater in Natural White. This sweater is again made from 100% soft Merino Wool for added comfort and includes a Fisherman Crew Neck style and the authentic Aran Cable stitch. We've styled with little black chinos and a cheeky grin.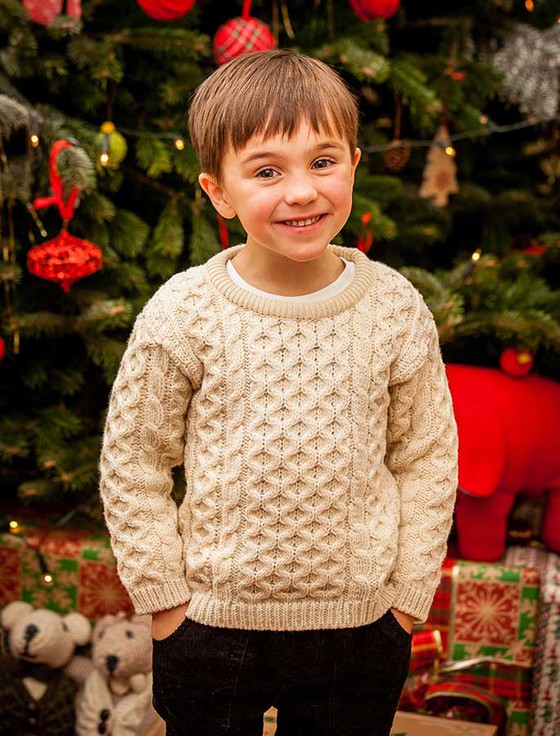 Sisters, Saoirse (six) and Aoibhinn (eight), both wear our Kids Hooded White Cardigan, featuring the traditional Aran Cable & Honeycomb pattern and leather look buttons. We worked with Saoirse's own individual style on the day, ( 'I am not wearing a dress!'), by styling with black shorts, black tights and a delicate flower bow for a casual yet pretty look.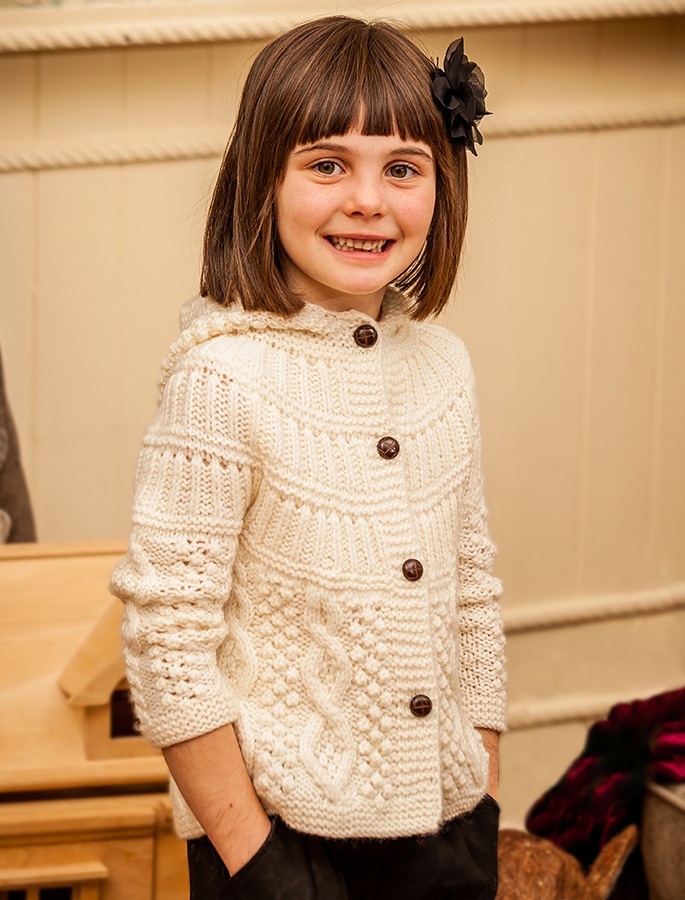 Aoibhinn knew exactly how to work the camera on the day and wears the same beautiful hand-knit sweater with amazing confidence and style. We've paired with a pale pink dress embellished with crystals, for that little bit of festive sparkle.
Lastly, we have Caoimhe (ten), modelling our authentic Aran Merino Wool Cardigan. This beautiful traditional sweater also come in Pink and Parsnip. We've styled over a black & cream floral lace dress, perfect for a cosy Christmas morning or family day out.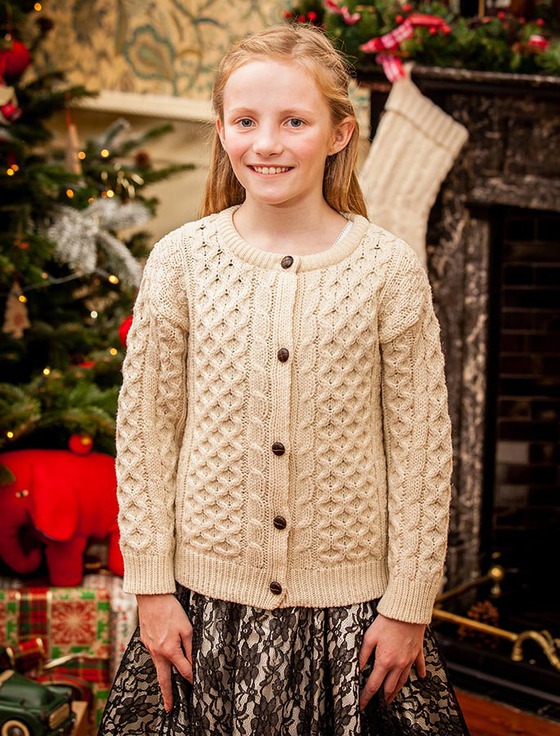 We would like to give a special thanks to Ballyseedy Castle and our wonderful and patient models for helping to make our Aran Christmas vision come through.
And now its over to you, will your little ones be graced in Aran this Christmas? Let us know all your thoughts on Aran Sweaters for Kids and what styles you like best.