Fairy Tale, Folk & Aran
Posted by Aran Sweater Market on 6th Nov 2014
From Dolce Gabanna, Alexander McQueen and even Tommy Hilfiger, its clear to see that even the finest of the catwalk kings were stuck by the Folk & Fairy-tale bug this season and we here at the Aran Sweater Market can see why. With visuals of ethereal birds, mystical animals and forest florals, all tied up with an illusionary whimsical bow, we just love how the trend takes us on a journey back to the magic fairy tales and folklore of our childhood. We also adore the idea of merging these romantic notions with our love of Aran knitwear, so when it came to the styling for our latest Aran Isles Collection, we conjured up all sorts of ideas to bring the trend to life on our very own home of Aran.
The O'Brien castle, located on top of the small Island of Inisheer, sent our imagination into overdrive for the beginnings of our inspiration. Surrounded by picturesque stone wall, unique to the Aran Islands and original stonework dating back to the 14th centurey, we knew it was the perfect location to combine the beauty of the trend with the legend of Aran. We choose our Hooded Coatigan in wine as the main garment for the look, accompanied by a beautiful vintage skirt with an array of climbing flowers in gold, dusty pink and vivid wine. A feather chain and a luscious red lip completes the style.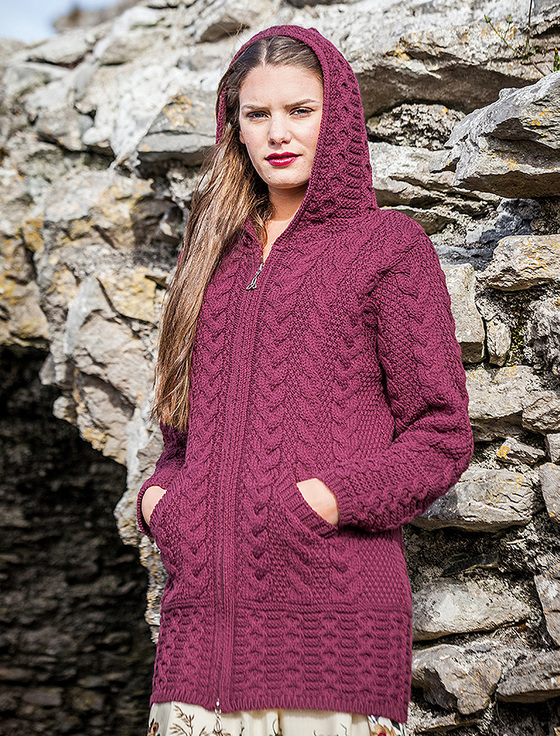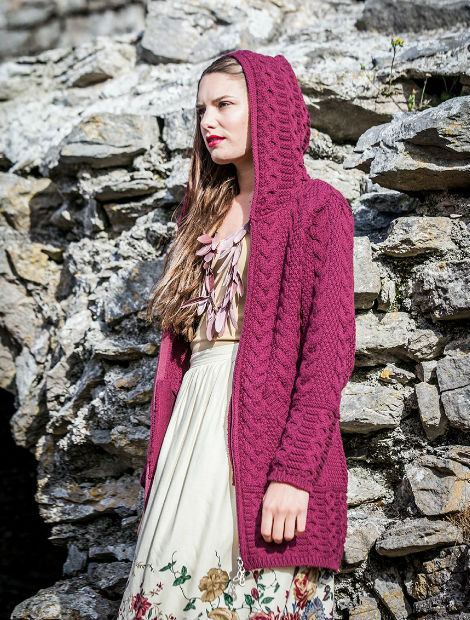 We chose our Lambswool Ruana in royal purple as the garment for the second scene at the castle, as we've always thought it has a certain romantic appeal. Accompanied by an gold and purple embellished chain and a classic braid, the look is reminiscent of a fairy tale princess in flight.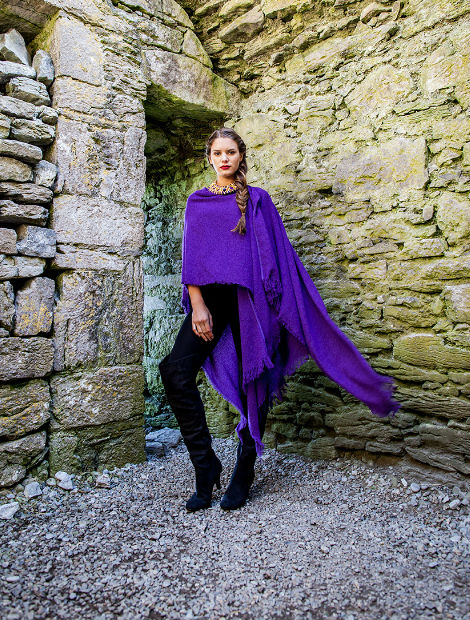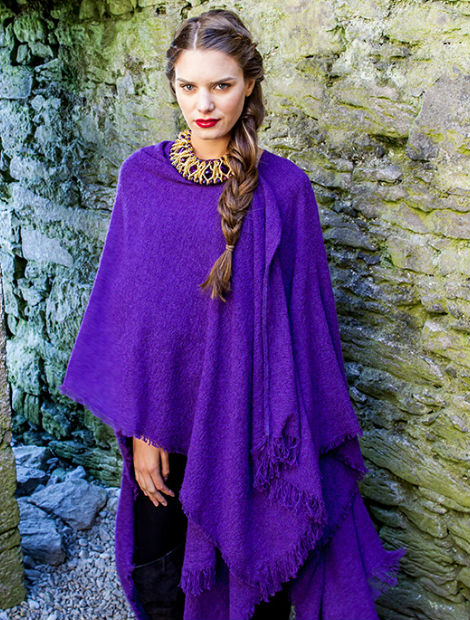 Being by the sea also provided us with the golden opportunity to play with the trend in a less obvious way, combining it with our turtle neck sweater with oversized collar in natural white. We called on our old friend vintage again to compliment the beautiful richness of our garment by theming it with a long black gypsy-esk skirt with delicate gold detailing and a black fedora hat to pull on the trend's folk strings.
And what princess is complete without her trusty horse as her companion.......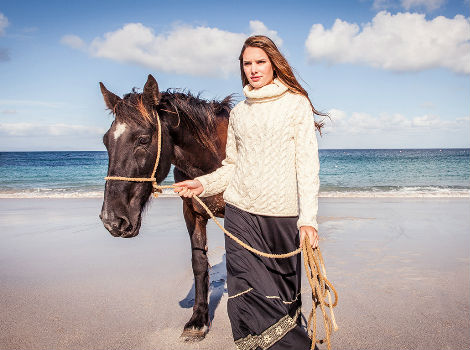 If you have been overcome by romantic notions and are a fan of the trend then please do share your styles here with us!