ClanAran: Heritage, Connection & The Super Bowl!
Posted by Aran Sweater Market on 6th Feb 2021
The dark January days are finally behind us and we can look forward to the start of brighter evenings and some Spring Color! St. Patrick's Day is only a few weeks away and although it may be different this year, it is still a time to celebrate your history and heritage. We thought it would be a good time to showcase our unique ClanAran range, to celebrate our culture and connection..
The concept of ClanAran runs deep within Irish mythology. Legend has it that each Irish Clan wove their very own pattern. The stitches of each unique pattern were used to identity the bodies of those Fisherman whose bitter battle with the perilous Irish seas brought them to their final resting place upon the shore.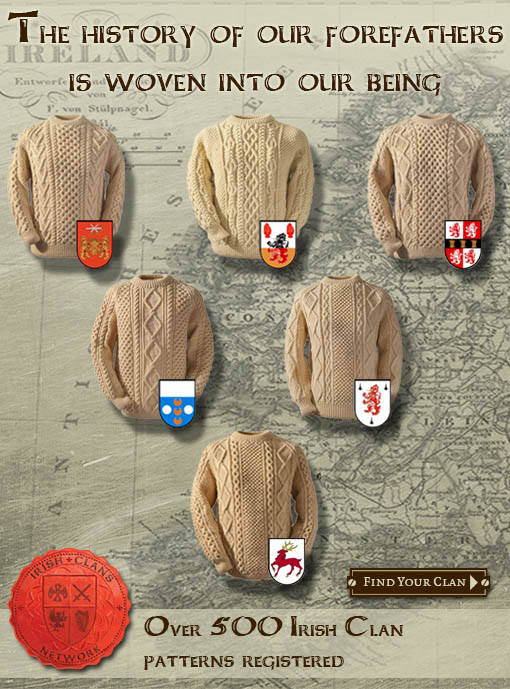 Even though "Legends" normally enhance the stories of old, it has been documented that for centuries, individual families and knitting groups around Ireland did indeed develop their very own knitting patterns.
Stitches and patterns were handed down through generations and thought by family members, long before the use of written patterns. These stitches have been honoured through our ClanAran products and have been carefully documented to ensure the safety of each pattern for generations to come.
Heritage & Connection
The past year has shown us the importance of family and connection to where we are from. Our identity is shaped by our family name and is a large part of who we are and where we come from.
Surnames were developed in the tenth century, with Ireland being one of the first European countries to adopt the use of hereditary fixed surnames. Overtime surnames began to allude to your nationality or a particular region within the country, However back then surnames meant a lot more and told the story of your own "Clan". O'Connors were warriors, Healy's were artists and scientists, a Foley was a plunderer and a Smith was, well just that.
Our family history and connection to our past is intertwined with our surname. An intrinsic part of our Irish identity is the meaning and history of our name. ClanAran is at the core of this, acting as a visual celebration of our family name and its origins. Connection to the past is so important in today's world. Our names are one of the few things that survive us all, bridging our past, present and future.
The ClanAran stitches echo this sentiment with the weaving of ancient family patterns to remind us of a generation, that although are long gone, will never be forgotten.
Clans & The Super Bowl
This weekend plays host to one of the biggest sporting events in the world. The Super Bowl regularly attracts over 150 million viewers from America alone with millions more tuning in across the world to take in the NFL's showpiece event.
Spearheading the charge for the Tampa Bay Buccaneers, Tom Brady is not only one of the NFL's greatest quarterbacks but also a direct descendant of one of Irelands most famous clans. The NFL legend's great-great grandfather left Ireland in the mid-19th century and landed in Boston during the height of the Great Hunger and scraped out a new life for himself in the Massachusetts capital.
The Brady clan originated in Co. Cavan in the province of Ulster in the north of Ireland, and it is there that the name remains most common, as well in some of the adjoining counties. The Gaelic for the name is Ó Brádaigh. Its meaning is unclear, however it is possible that it comes from the Gaelic word "brádach" which means 'spirited'.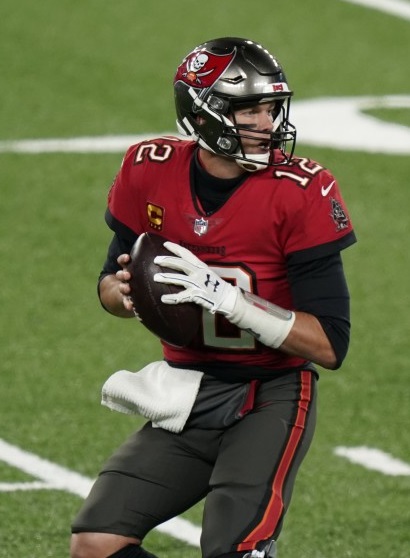 Brady is immensely proud of his Irish heritage and has spoken about this previously:
"My father is 100 percent Irish. We took a trip over there together and visited some of the places where my family came from. That was a great experience for me and obviously, I am very proud of my Irish roots."
Source (Irishcentral.com)
ClanAran Range
Our unique ClanAran Range includes a hand-knit sweater, which is hand crafted with the traditional báinín wool, a carefully crafted clan scarf & clan poncho, specially knit clan throw, clan bed runner & clan baby blanket, hand-crafted clan history display and clan knitting kit. All these items make great family gifts and symbolic mementos which will be cherished by all future generations of your family.
We hope you enjoy how we've chosen to capture the beauty of our Clan Aran Sweaters and if you are lucky enough to have one, that you wear it proudly for Country & for Clan this St. Patrick's Day.
Until next time, Slán go Fóill!